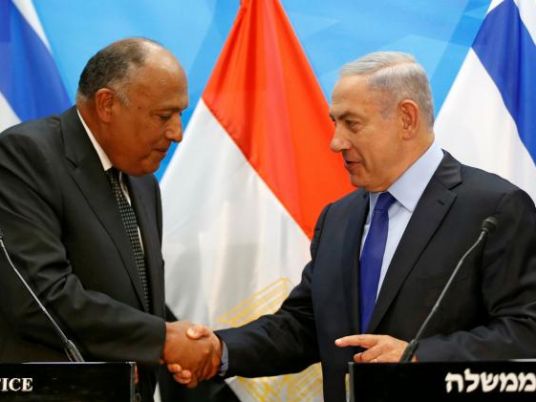 The Israeli Foreign Ministry has used Quranic verses to defend Egyptian Foreign Minister Sameh Shoukry's meeting in Israel on Sunday with the Israeli Prime Minister Benjamin Netanyahu.
"Israel in Egypt", an official Facebook page established by the Israeli Foreign Ministry to strengthen diplomatic and economic relations with Egypt, cited verses from the Quran after some visitors to the web page posted critical comments.
"No peace between us and you for a lifetime. Even if officials established relations with this Zionist entity, you would always be our first enemy until the Day of Judgement," wrote one angry visitor.
The page administrator responded with a Quranic verse that reads: "And if they incline to peace, then incline to it [also] and rely upon Allah. Indeed, it is He who is the Hearing, the Knowing."
Many of the comments from Arab users were critical, both of the visit itself and statements by the Shoukry and Netanyahu, mostly on the basis that Egypt should not seek to normalize relations with Israel.
"A diplomatic visit that does not represent any kind of normalization between the Egyptian people and Zionists," one user wrote.
The page's administrator responded: "It's a good step and we want to strengthen good relations between the two peoples."
Another visitor to the Facebook page praised Shoukry's visit to Israel, saying: "An excellent step. I hope it would be followed by further steps."
Egypt's Foreign Minister Sameh Shoukry held extensive talks with Israeli Prime Minister Benjamin Netanyahu on Sunday evening, in a visit to Tel Aviv to discuss matters of regional conflict and to restoke peace talks with Palestine.
During the visit's press conference, Israeli government spokesperson Ofir Gendelman quoted Netanyahu as saying that the Egyptian foreign minister's visit is important for many reasons, not least because it marks a shift in Egyptian-Israeli relations and a proactive response to Sisi's recent call for advancement in the peace process.
Official pages directed at Arabs, such as "Israel in Egypt" and "Ofir Gendelman Prime Minister Benjamin Netanyah's Spokesperson to Arab Media" published news and photos on the visit.
However, the Facebook page of Avichay Adraee, IDF spokesperson, did not cover the visit, despite seeking a rapprochement with Arabs through publishing Islamic prayers.
Edited translation from Al-Masry Al-Youm