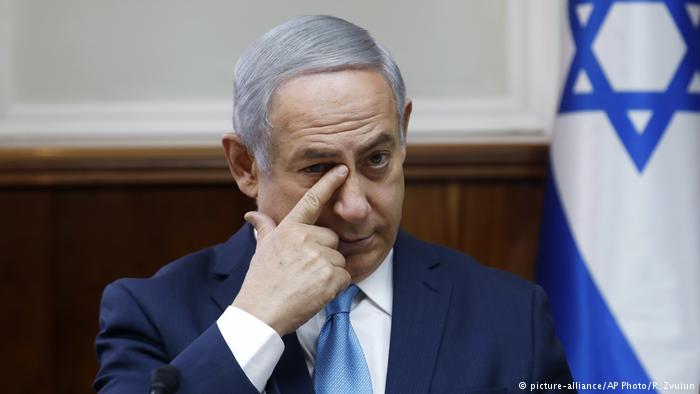 Israeli police said on Tuesday that they were recommending an indictment against Prime Minister Benjamin Netanyahu on charges of bribery and fraud.
While the statements are not legally binding, they are deeply embarrassing for the prime minister who has repeatedly faced calls to step down amid rumors of wrongdoing.
Netanyahu made a televised address later on Tuesday to address the allegations, dismissing them as baseless and denying any malfeasance.
The allegations have nevertheless shaken Israel's political landscape and raised questions over whether Netanyahu's 12-year tenure as prime minister could be nearing its end.
Police: Sufficient evidence of bribery
Police said in a statement they were recommending Netanyahu's indictment on charges of bribery, fraud and breach of public trust.
One of the cases, known as Case 1000, alleges that the Israeli prime minister:
received lavish gifts from Israeli billionaire and Hollywood producer Arnon Milchan, as well as Australian mogul James Packer. The gifts allegedly included expensive cigars, jewellery and champagne, with a total value of some one million shekels (€229,000, $283,000).
tried to help Milchan receive tax benefits in Israel and promote his business interests.
The second, Case 2000, alleges that Netanyahu:
gave Arnon Mozes, the editor of Israel's biggest-selling newspaper Yediot Aharonot, special treatment in exchange for positive coverage.
discussed potential measures with Mozes that sought to financially undermine a rival daily newspaper, Israel Hayom, "through legislation and other means."
The police said there was sufficient evidence to charge both Milchan and Mozes with bribery, along with Netanyahu.
Netanyahu has been questioned by officials seven times over corruption claims, prompting the premier to accuse his political rivals of fomenting the investigation in order to unseat him.
Bibi denies, opponents attack
As news of the allegations broke, Netanyahu proclaimed his innocence during a television address and stressed his determination to complete his current term as prime minister.
"Over the years, I have been the subject of at least 15 inquiries and investigations," he said. "Some have ended with thunderous police recommendations like those of tonight. All of those attempts resulted in nothing, and this time again they will come to nothing."
He added that "our government will finish its term and I am sure that in the next elections (slated for 2019), I will again win your confidence."
However, opposition figures were keen to herald the allegations as the beginning of the end for Netanyahu's tenure, with Labour party leader Avi Gabbay proclaiming "the Netanyahu era is over."
"It is the duty of every decent public figure to strengthen the police and the law and to act to end the path of the government headed by Netanyahu," Gabbay wrote on Twitter.
Former Labour Prime Minister Ehud Barak, a bitter rival of Netanyahu's, called on him to suspend himself and for the coalition to appoint a successor by Wednesday morning. "The depth of corruption is horrifying," Barak said. "This does not look like nothing. This looks like bribery."
What now for Netanyahu?
The case now goes to Attorney General Avihai Mandelblit for review, before he decides whether to file charges.
While an indictment alone would not legally force Netanyahu to step down, he would likely face mounting pressure to do so from fellow lawmakers and the public. He would be legally forced to step down if convicted and with all appeals exhausted.
Ahead of the police recommendations, there was speculation Netanyahu could call for early elections as part of a bid to get a public mandate and perhaps force a prosecutor to think twice before pressing charges. Such a move, however, would also be risky, with several recent polls showing ebbing support for the prime minister.
If the attorney general proceeds with the investigation, it would not be the first time Israel's head of government was brought down over graft allegations. Ex-Prime Minister Ehud Olmert resigned in 2009 after being indicted for fraud.