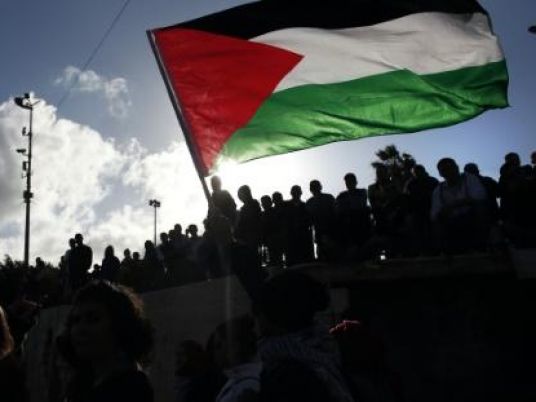 Israel complained to the United Nations on Tuesday about a Palestinian initiative to fly their flag alongside those of full member states at the world body's headquarters, calling it "another cynical misuse of the U.N. by the Palestinian Authority."
Currently, only member states' flags fly at U.N. headquarters. While the 193-nation assembly overwhelmingly approved the de facto recognition of the sovereign state of Palestine in 2012, a Palestinian attempt to secure full U.N. membership failed. Palestine is considered a non-member state.
But the flags of the two non-member states – Palestine and the Vatican – could soon be flying at the United Nations.
The General Assembly is expected to vote on Sept. 10 on a Palestinian resolution that says the flags of non-member observer states "shall be raised at the United Nations Headquarters and Offices following the flags of the member states of the United Nations."
Israel's U.N. ambassador, Ron Prosor, wrote a letter of complaint about the Palestinian initiative to U.N. Secretary-General Ban Ki-moon and this year's president of the 193-nation General Assembly, Sam Kutesa of Uganda.
"For 70 years the United Nations has raised only flags of full member states," Prosor said, adding that the Palestinians never held a single round of consultations on their resolution. He called it "another cynical misuse of the U.N. by the Palestinian Authority."
"Once again the Palestinians prefer to score easy and meaningless points at the U.N., simply because they can," he said. "It's time to unequivocally tell them: This is not the path to statehood, this is not the way for peace."
He also accused the Palestinians, who he said appear to already have enough votes for their resolution to pass, of misleading U.N. member states by pretending that it was a joint initiative with the Vatican.
Last week, the Holy See's mission issued a diplomatic note saying it would not co-sponsor the resolution and demanding that all references to it be cut from the draft.
Several days later, it issued a new statement reiterating that it did not object to the Palestinian draft resolution on flying non-member states' flags but without any reference to its earlier demand that it not be mentioned in the resolution. But the mission made clear it was satisfied with the status quo.
Prosor said the Vatican issued the second statement under pressure from the Palestinian and Arab delegations.
Neither the Vatican's nor the Palestinians' U.N. missions had any response to queries about Prosor's letter.
In Washington, State Department spokesman Mark Toner said, "We continue to believe that Palestinian efforts to pursue statehood or endorsements of statehood claims through the U.N. system that are outside of a negotiated settlement, we believe those actions to be counterproductive."
(Editing by Doina Chiacu and Leslie Adler)