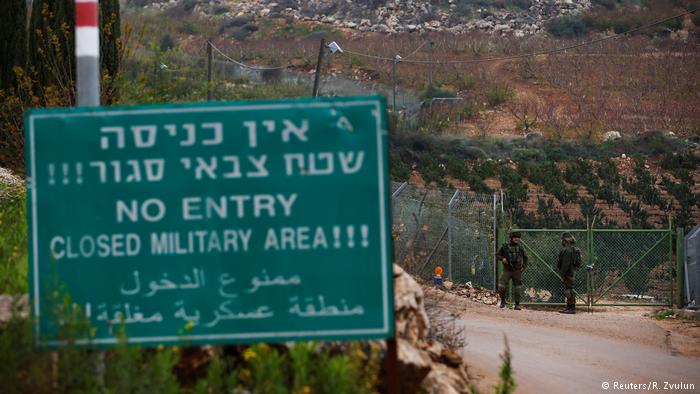 Israeli forces have launched a military operation to "expose and thwart" tunnels it says stretch from Lebanon to its territory. Israel considers Iranian-backed Hezbollah a major threat.
Israel said on Tuesday it had detected so-called attack tunnels infiltrating its territory from the north and had started working to expose them. The passageways, running underground between Lebanon and Israel, are not yet operational, according to the Israel Defense Forces (IDF).
The IDF did not specify the number of tunnels it had discovered, nor how long the operation, dubbed Northern Shield, would last.
"We have launched Operation Northern Shield to expose and thwart cross-border attack tunnels dug by Hezbollah terror organization from Lebanon into Israel," IDF spokesman Jonathan Conricus said.
"We see the Hezbollah activities as a flagrant and blatant violation of Israeli authority."
Netanyahu's warning
In a UN speech in September, Israel Prime Minister Benjamin Netanyahu, accused Hezbollah of converting "inaccurate projectiles" into precision-guided missiles in Lebanon. He also held up aerial photos which he claimed show the exact locations of the weapons storage compounds. Lebanon's top diplomat slammed the claims as "pure lies."
A few weeks ago Israeli Prime Minister Benjamin Netanyahu hinted at an upcoming Israeli offensive. "I have a clear plan. I know what to do and when to do it. And we will do it," he said without going into specifics.
He said an upcoming security challenge would require Israelis to "endure sacrifice."
Hezbollah's 'cross-border project'
Operation Northern Shield will likely inflame tensions with Hezbollah, the Lebanese Shiite militant group with which Israel fought several wars, the latest in 2006. More recently, Hezbollah has been one of the main backers of Syrian President Bashar Assad in the country's civil war. The group is one of Iran's staunchest allies.
The IDF announced it has strengthened forces at its border with Lebanon as a precaution against potential escalation.
Hezbollah has spent years digging cross-border attack tunnels between Lebanon and Israel as part of their "Conquering the Galilee" offensive plan, according to the IDF.
The United States classifies Hezbollah as a terrorist organization while the European Union uses the terrorist label solely for the group's military wing.
Hezbollah has not yet commented on the Israeli military operation, however, one unnamed Hezbollah official told Lebanese media it was Prime Minister Benjamin Netanyahu's response to his political and legal troubles, reported The Times of Israel.
Lebanon's military is taking precautionary measures on its southern border, according to a security source cited by Lebanese media outlet Al-Annahar.
kw/rc (AP, AFP, dpa, Reuters)