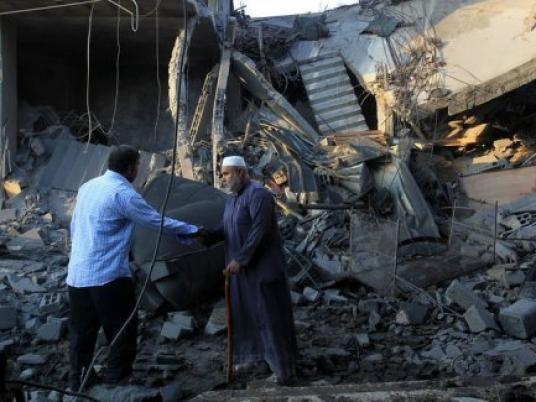 "For the first time on Thursday, the Egyptian president explicitly said the word 'Israel' during a public condemnation of Israel's actions," writes well-known Israeli commentator Boaz Bismuth of the right-leaning Israel Hayom daily.
The word may have been a slip, because in speech Friday the president only referred to Israel as "the aggressor."
Nevertheless, Bismuth welcomes Thursday's aberration with open arms.
"Never before has a condemnation been so well-received in Jerusalem," he says.
Ever since the latest escalation between Israel and Palestine began Wednesday, Israeli media commentators have praised President Mohamed Morsy for perceived moderation vis-a-vis Israel, and have expected him to pressure Hamas to accept a deal favorable to Israel.
On Sunday, as an Israeli official arrived in Cairo for truce talks with Hamas, Israeli President Shimon Peres complained that Hamas "don't even listen to their Arab brothers," and has turned down the Egyptian president's proposal for a cease-fire.
Egyptian officials had repeatedly warned Hamas leadership, before Israel's latest assault on Gaza began, not to provoke Israel, and emphasized that Egypt was not interested in escalation, according to Ehud Yaari, a prominent Arab affairs commentator for Channel 2 News, Israel's most popular television news network.
"Now you have to understand Egypt's behavior, with everything we see, in the light of that," said Yaari, during the Saturday afternoon broadcast, implying that Morsy may be little inclined to come to the rescue of Hamas.
The decision to recall Egypt's ambassador from Tel Aviv and summon the Israeli ambassador for protest left Israeli analysts unimpressed.
"We've seen this before, even during the friendly Mubarak era," writes Bismuth, referring to ousted Egyptian leader Hosni Mubarak.
Morsy also requested emergency meetings of the United Nations Security Council and of Arab foreign ministers.
"The Egyptian president must be seen as doing more than his predecessor, Hosni Mubarak, who recalled his ambassador a number of times — from Operation Peace for the Galilee through the Second Intifada and more," writes former Israeli Ambassador Zvi Mazel for The Jerusalem Post. "Recalling the ambassador is becoming routine and is losing its effectiveness."
As for the emergency meetings, veteran war correspondent Ron Ben Yishai of Yediot Aharonot credits Morsy's regime with "attempting to kick the ball away into the international arena, thus keeping the Egyptian public opinion happy while avoiding a heated conflict with Israel."
Yehuda Belgana, an expert on Egypt at Bar-Ilan University, writes in the daily Maariv that Cairo's leadership could have adopted "practical steps like freezing cooperation between [Israel's] security personnel and Egypt's intelligence services, or more severely, quietly letting Hamas (or other terror Jihad organizations) operate from Sinai against Israel, knowing that Israel won't attack them in Egypt's sovereign territory."
In the words of Mazel, "Morsy has taken all commonly used diplomatic steps to demonstrate his anger at Israel's actions, while being careful not to go further — for the moment."
What makes Israeli commentators particularly appreciative of Morsy's stance is that they understand the domestic political pressures confronting him.
On Wednesday, the Muslim Brotherhood announced that "Cairo will no longer allow the Palestinians to be attacked by Israel as before," and "things have changed in the Arab world, especially in Egypt."
Recalling these lines, Bismuth puts Morsy's behavior in context.
"Morsy's party sent a message to Israel on Wednesday, but also sent a message to Morsy," he writes. "Morsy knows full well that peace has a price, but that tearing up existing agreements also comes with a cost."
Tempering Israeli reactions further is the conviction that Egypt needs to maintain peace with Israel and strong relations with the US, on which it depends for more than US$2 billion a year in aid and billions more in loan guarantees from the World Bank.
"In a phone conversation with [US President Barack] Obama on Thursday, Morsy stressed how important it was to Cairo to maintain good relations with Washington," Bismuth writes. "In this Muslim Brotherhood era, this was his way of saying, 'Help us preserve peace by restraining Israel and preventing an [Israeli Defense Forces] ground op in Gaza.'"
Amos Harel, expert in defense matters, and Avi Issacharoff, Arab Affairs correspondent, write, "Egypt is especially interested in calming things down to shore up the status of the new regime in the Arab world and score points in Washington, which must make a decision soon on economic aid to Cairo." The article appears in Haaretz, a left-leaning daily.
Despite the saber rattling and troop mobilizations, Israel also wants to avoid a ground invasion, except in the case of "last resort," Harel and Issacharoff say.
"Few in the government or the General Staff are enthusiastic over the prospect of a ground operation. People spoiling for a ground operation are not decision makers, but ministers and MKs caught up in the spirit of the election campaign," they write, thus dismissing some aggressive language from the Israeli side.
From Israel's perspective, ground invasions in recent years have produced mixed results. During the Second Lebanon War in 2006, a ground invasion against Lebanon intended to crush Hezbollah ultimately increased its credibility in Lebanon and throughout the Arab world by delivering it a perceived victory against Israeli forces. Although many credit Operation Cast Lead in 2008 with greatly reducing Gaza rocket fire for a time, Israel's international legitimacy weakened in the face of war crime allegations and high civilian death tolls.
If Egypt manages to mediate a truce, "we will have averted a war and all its costs while Morsy could say that he is now the biggest power broker in the region," writes Meir Javedanfar, an Iranian-Israeli Middle East analyst, in the Times of Israel.
"Let's not forget that when it comes to destroying Hamas tunnels, Morsy has done more than Mubarak did," adds Javedanfar. "Yes, you read that right. Despite belonging to the Muslim Brotherhood organization, Morsy has actually made life for Hamas quite difficult."
Morsy would be better than Israeli Prime Minister Benjamin Netanyahu in reigning in Hamas, which would be the biggest loser of any mediated deal, according to Javedanfar.
"Not only it would be confronted by a Muslim Brotherhood diplomatic onslaught, it would come out of this conflict losing its most senior military official Ahmed al-Jabari and its credibility," he writes. "And if it decides to break the truce, it would have Morsy to answer to. He is a lot more difficult to avoid than Netanyahu."