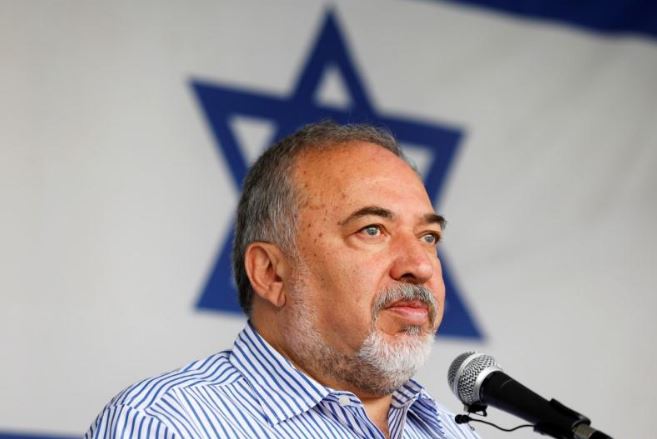 JERUSALEM (Reuters) – Israeli Defence Minister Avigdor Lieberman was due to make a public statement on Wednesday and a source close to the far-right politician said he may announce his resignation over the government's policy toward the Gaza Strip.
"He is thinking of quitting," the source told Reuters, after Lieberman's office said he had opposed a security cabinet decision on Tuesday to stop attacks in Gaza, where a ceasefire agreed by Palestinian armed groups ended a two-day surge in fighting.
Israel's Haaretz newspaper reported sources close to Lieberman saying that he does intend to step down and has been planning the move for some time, feeling he "isn't leading the defense establishment to the place he wants to go".
Lieberman's departure would probably also mean withdrawing his Yisrael Beiteinu party from the ruling coalition. Without its five seats in the 120-member parliament, Prime Minister Benjamin Netanyahu would be left with a majority of just a single seat. That could prompt Netanyahu to consider bringing forward a national election slated for November 2019.
Lieberman's office said he would address media at 1100 GMT after convening a special session of his party. A Lieberman spokesman declined to comment on the content of his planned announcement.
Lieberman has spoken in favor of harsh Israeli military action against Hamas Islamists in the Gaza Strip, even as the government authorized a Qatari cash infusion to the impoverished enclave last week and, on Tuesday, accepted the Egyptian-mediated truce that halted Palestinian rocket attacks and Israeli air strikes.
Lieberman, a former foreign minister, received the defense portfolio in May 2016. Despite his hawkish talk on Gaza, he has been criticized by another far-right party within the coalition, the Jewish Home, as easily swayed by a cautious military brass.
Born in the former Soviet Union, Lieberman's voter base is made up of fellow Russian-speaking immigrants, and rightists and secularists who share his hostility to Israel's Arab minority and the religious authority wielded by ultra-Orthodox Jewish parties.
Writing by Dan Williams; Editing by Jeffrey Heller and Peter Graff.