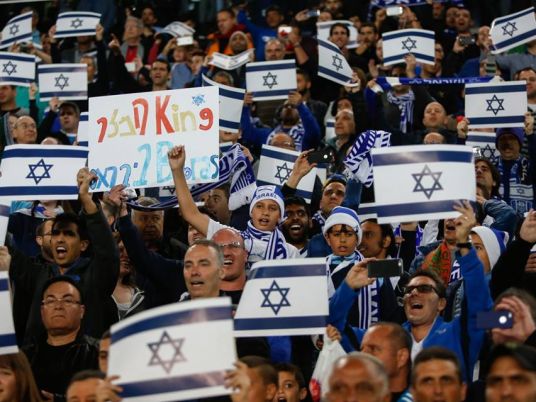 The Israeli Embassy in Egypt called on Facebook users to share their opinions about the possibility of holding a "friendly" sports game between the Egyptian and Israeli teams, on Sunday.
In a statement on Facebook, the embassy said "let us imagine that next week a friendly game will be held between the Egyptian and Israeli teams… we hope that it is a fiery game," wishing both teams good luck.
The embassy asked people to share their feelings and opinions on the idea, asking if it is possible to "one day break the barrier of fear."
Followers and commentators hurled insults at the embassy and Israel, in comments on the post.
Egypt signed a peace treaty with Israel in 1979 and was the first Arab country to recognize Israel but tensions between the two countries still exist.
Among the commentators is Egyptian journalist Adel Hamouda who said that generations are being brought up, inheriting "hatred" towards Israel, which he described as an "occupying state". He added that Egypt may be dealing with Israel for diplomatic relations put forward in Camp David Accords but attempts to normalize ties with the Arab world in sports will remain "elusive".
Diplomatic ties between Egypt and Israel have been fully restored after being scaled back in recent years.
Just last week, Egypt's ambassador to Israel presented his diplomatic credentials to Israeli President Reuven Rivlin, marking the end of a three-year period without an Egyptian ambassador in Israel.
In a move that sparked controversy and public outrage, parliamentarian Tawfik Okasha met last Wednesday with Haim Koren, the Israeli ambassador to Egypt. The move prompted another parliamentarian, Ahmed Kamal, to throw a shoe at Okasha who is being investigated by a special parliamentary committee for the meeting.
Last September, the Israeli embassy relocated its Cairo office after four years of closure. The previous office was shut down after protesters broke into the building in September 2011.
Egypt's Pope Tawadros II visited Jerusalem last November in a controversial trip that was the subject of heavy criticism on social media and by Egyptian public figures. It was the first such trip since a decision by the Holy Synod in 1980 banned Copts from visiting Jerusalem, the disputed city that is home to ancient holy sites for Muslims, Christians and Jews.