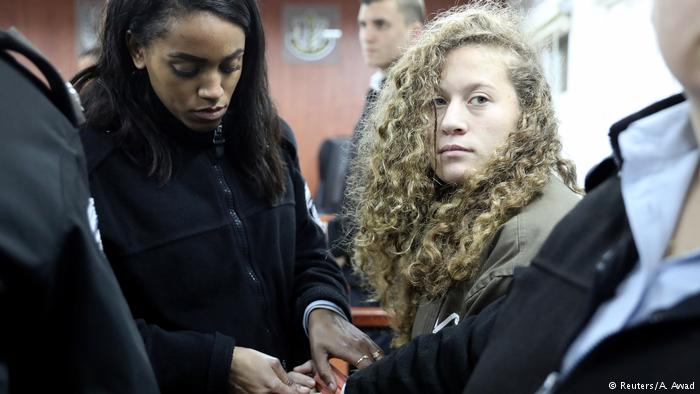 An Israeli military court on Monday indicted a teenage Palestinian girl who was filmed kicking and slapping Israeli soldiers in front of her village home in the occupied West Bank.
The incident two weeks ago has made 16-year-old Ahed Tamimi a Palestinian hero and symbol of the resistance against Israeli occupation.
The 12 charges filed at an Israeli military court relate to the events in the December 15 video as well as five other incidents over the past two years.
The video shows Tamimi and her cousin telling two Israeli soldiers to leave before she pushes, slaps and kicks them.  The soldiers then move backward after Ahed Tamimi's mother Nariman gets involved.
The soldiers responded with restraint, something that infuriated right-wing Israelis angry over any signs of weakness.
Education Minister Naftali Bennett told Army Radio following the incident that the women involved "should finish their lives in prison."
Multiple charges
The Israeli military said the soldiers were at the scene following a stone-throwing incident targeting its troops as Palestinians protested the US decision to recognize Jerusalem as the Israel capital.
Tamimi's father Bassem, an activist, has said that the incident took place on their family property after soldiers fired a rubber bullet at close range that destroyed the face of Ahed Tamimi's 15-year-old cousin Mohammed Tamimi.  Surgeons later removed the bullet that had entered from his mouth and lodged in his brain, according to hospital officials.
The 12 charges against Ahed Tamimi, who was arrested in a pre-dawn raid three days after the incident, include aggravated assault against a soldier, obstructing a soldier in the performance of his duty, throwing stones at troops and incitement to violence.
"Tamimi threw stones at them (the soldiers), threatened them, obstructed them in fulfilling their duty, took part in riots and incited others to take part in them," the military said.
The incitement charge relates to a video message posted on Facebook after the incident was filmed, in which, according to the indictment, Ahed Tamimi calls for all manner of resistance, including suicide attacks and stabbings.
Ahed's mother, Nariman, was also charged with incitement and other crimes, as was her cousin Nour.
Bringing up the past
Ahed Tamimi had been involved in previous acts of resistance and pictures of her confronting troops are widely published.
Ahed Tamimi's lawyer, Gaby Lasky, called it "strange" that prosecutors were filing charges on previous incidents only after the December 15 incident was filmed and created a public backlash.
"Since Ahed became kind of a symbol of resistance, they wanted to find a way to keep her in detention for a long period of time," she told AFP.
Ahed Tamimi's father has said he fears an example will be made out of his daughter and she will face a long imprisonment because the issue has become "a case of public opinion" in Israel.
'Harmed nothing but the pride of the occupier'
Ayman Odeh, the head of the Joint List, an alliance Israeli-Arab parties that is the third largest bloc in the Knesset, said, "This legal process is entirely motivated by retaliation against this courageous woman whose behavior has harmed nothing but the pride of the occupier."
Michael Oren, a former Israeli ambassador to the US and member of Prime Minister Benjamin Netanyahu's Likud party, suggested that Odeh should be jailed for meeting with the Tamimi family.
Previously, Oren had suggested the Tamimi family "may not be a real family" and accused them of conducting propaganda against Israel by dressing up children in American clothes and provoking troops.
'Wall of dehumanization'
Gideon Levy, a prominent Israeli journalist, wrote in an op-ed in Haaretz that many Israelis had lost all feeling of compassion or sympathy with a young girl legitimately resisting occupation.
"The wall of dehumanization and demonization that has been built through vile campaigns of incitement, propaganda and brain-washing against the Palestinians has trumped even the blonde from Nabi Saleh," Levy wrote, referring to Ahed Tamimi's white skin and curly blonde hair that breaks typical stereotypes of Palestinians.
"Tamimi is a Palestinian, that is to say, a terrorist, and therefore, she doesn't deserve any feelings of sympathy. Nothing will crack the defensive shield that protects Israelis from feelings of guilt, or at least discomfort, over her outrageous arrest, over the discrimination by the justice system, which would never have paid any attention to her had she been a Jewish settler," he wrote.