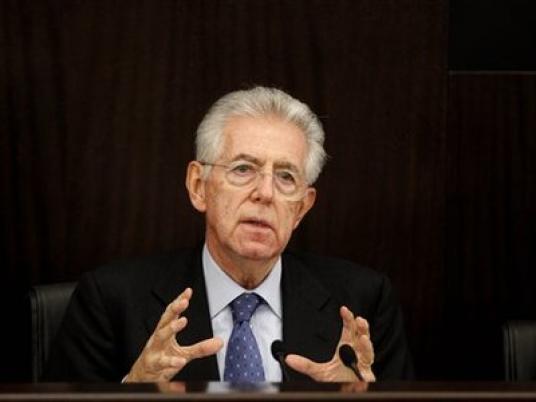 Italian Prime Minister Mario Monti wrapped up his first visit to Cairo this week and his second trip in the region after Libya since the beginning of his mandate.
Marked by an economic focus, Monti's visit included meetings Monday and Tuesday with Prime Minister Kamal al-Ganzouri, Foreign Minister Kamel Amr, Planning and International Cooperation Minister Fayza Abouelnaga and People's Assembly Speaker Saad al-Katatny.
Monti's trip is also an attempt to reassure both Italian and Egyptian companies about the continuity of existing business deals and cooperation agreements.
The PM urged Egypt's transitional government to maintain its "business-friendly" attitude and said adequate security parameters were essential to successful economic cooperation.
Italy is Egypt's main European partner in a wide range of fields such as trade, education, professional and vocational training, archaeology and tourism. More than 500,000 Italians visited Egypt in the past year. Italy is also the primary destination for Egyptian migration in Europe.
Italy's investments in Egypt reached US$6 billion in 2011, according to The General Authority for Foreign Investment. Bilateral agreements include wind power generation and rail transport, as well as a memorandum of understanding for a two-phase credit line to finance Egyptian exports to Italy.
At a joint presser with Monti on Monday, Ganzouri said the two countries have agreed to create trilateral economic cooperation plans with countries including Sudan and Libya.
On Sunday, Monti met with a group of Italian entrepreneurs and urged them to continue their work in Egypt, praising the importance of the unique bilateral ties that allow for facilitated investments and privileged commercial exchanges.
"[Italian] companies have faced many problems linked to the security situation and had difficulties in communicating with the public administration, nevertheless, they committed to maintaining investments," Monti said.
In January, Italian Foreign Minister Giulio Terzi met with Abouelnaga to discuss the commitment to the third phase of the debt swap program aimed at converting $100 billion in Egyptian debt to Italy into development projects and infrastructure investments.
Mario Cortese, an Italian who has worked at a consulting firm in Egypt for seven years with companies willing to invest or pursue commercial exchanges in the country, said, "for small and medium Italian enterprises already operating in Egypt, there haven't been significant problems … the situation is quiet and safe. Nevertheless, there haven't been new investments throughout the year 2011 due to the instability of the political situation."
If the new Egyptian government changes its international economic policies large Italian corporations could be affected, especially those involved in heavy industries and infrastructure.Egyptian presidential candidates haven't articulated much about their economic policies, nor has Parliament considered any significant legislation in that regard.
Italian companies and their Egyptian partners have benefited from former President Hosni Mubarak's privatization programs over the past two decades, despite the lack of infrastructure and qualified manpower and bureaucratic red tape. Despite more than a year of instability, most of these companies are still operating in much the same business environment.
"Many companies that made medium and long-term investment plans in the country now fear that the agreements will not be honored," said Cortese.
Presidential elections are scheduled for 23 and 24 May.
Italy itself is still struggling with the economic troubles that pressured former Prime Minister Silvio Berlusconi to step down and to form a technical government chaired by Monti, a longtime friend of the Central Bank of Europe and a trusted interlocutor of Germany and France.
Thus far, Monti's spending cuts on welfare and substantial changes in labor legislation have not had a significant impact on the economy, nor they have reassured the global market.