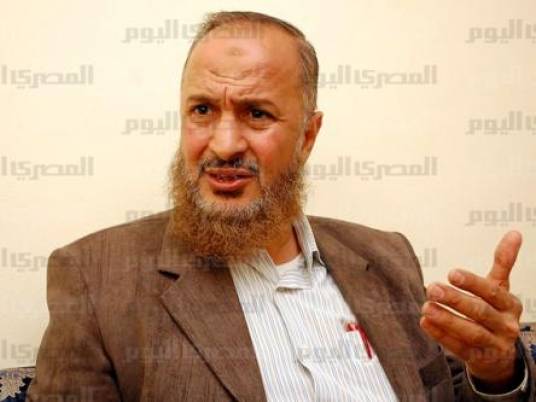 According to judicial sources, Jamaa al-Islamiya leader Essam Derbala has been referred to supreme state security prosecution for investigations.
Derbala was arrested earlier on Wednesday in Qena province, but none of the charges levelled against him have been revealed.
Rabei Shalaby, one of the group leaders, said security operations against the group have intensified since the arrest of extremist leaders, including Ezzat al-Salamony. He added that Derbala, who is the head of the group's Shura council, should have taken a firmer stance against the extremist figures, denouncing them and their alliance with the Muslim Brotherhood.
Derbala, according to Shalaby, was going to escape to Sudan, following an agreement with Tareq al-Zomor, the group leader.
Speaking to Al-Masry Al-Youm, Shalaby said that Osama Hafez, Darbala's deputy, will be in charge of the group. There are divisions within the organization over resuming the alliance with the Brotherhood, he added, revealing that the extremist members of the group's Shura council who support this alliance will likely be arrested.
Meanwhile, Waleed al-Barsh, the founder of Tamarod al-Jamaa al-Islamiya movement, said that Derbala had been in contact with the national security agency previously, over withdrawal from the alliance, but he stepped back from it due to pressure from abroad.
The charges levelled against Derbala, according to Barsh, include supporting a terrorist group which threatens national security.
"Derbala has had contacts with the national security agency. There was a meeting a month ago with Aboud al-Zomor, the group leader," he said. "Once the terms of the agreement reached the leaders abroad, Brotherhood TV channels reacted, with the Salafi preacher, Mohamed Abdel Maqsoud, attacking the group."
He added that Osama Hafez is now heading the group, preparing to withdraw its support for the Brotherhood and return to preaching.
"Hafez is adopting moderate positions now, especially that he used to side with moderate imprisoned leaders, while opposing the extremist figures," he said, adding that in case Derbala is released and not referred to trial, the reconciliation will be declared immediately.
Edited translation from Al-Masry Al-Youm