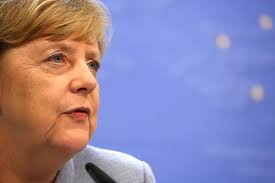 German Chancellor Angela Merkel on Friday begins the first full round of talks on forming a three-way "Jamaica" coalition that she needs to work or else risk her time in power coming to an end after 12 years.
The talks between Merkel's conservative bloc, the pro-business Free Democrats (FDP) and the Greens are styled as "exploratory", but negotiators aim to get down to details of tax and budget policy in their first full meeting together.
The three-way combination, dubbed a "Jamaica" coalition because the three parties' colors – black, yellow and green – match those of the Jamaican flag, is untried at national level.
Merkel, weakened by a surging far-right in last month's national election, needs to make the awkward alliance fly as her previous "grand coalition" partners – the centre-left Social Democrats (SPD) – have said they want to rebuild in opposition after suffering their worst election result since 1933.
"We must do everything in our means to be successful in this constellation that we have," Volker Kauder, parliamentary floor leader of Merkel's Christian Democrats (CDU), told ARD television.
"We must provide a stable government for the country. We have huge discussions going on in Europe. The political situation abroad has become complicated. So we need a stable government."
In a sign that Merkel's hands are tied on a European level, the chancellor told reporters after a two-day EU summit in Brussels that big decisions on the future of the euro zone would have to wait for the formation of the new government in Berlin.
"European policy is very important," Merkel said, adding that she had promised FDP and Greens leaders in bilateral talks earlier this week to liaise with them on any major decisions.
Merkel has been able to steer Europe through its euro zone and refugee crises in part due to her dominance at home. Now that dominance is waning – her conservatives last month had their weakest election showing since 1949.
An Infratest Dimap poll for ARD showed 83 percent of Germans wanted the parties to find a compromise deal. Negotiators from the three party groups meet at 4.30 p.m. (1430 GMT) for the first time after holding bilateral sessions earlier this week.
"CENTRIFUGAL FORCES"
"The chancellor knows that she must lead 'Jamaica' to success. Otherwise the centrifugal forces in the CDU will become uncontrollable," business daily Handelsblatt wrote in an editorial headlined: "Jamaica as last chance for Merkel."
Some conservatives are starting to look towards a post-Merkel era. Daniel Guenther, conservative premier of the northern state of Schleswig-Holstein, said Germans had a "huge interest" in Merkel leading Germany for another four years.
"But they also want to see how things will proceed afterwards," he told Focus magazine.
Merkel, 63, has suffered two further setbacks since the national election: the CDU was defeated in a regional election in Lower Saxony on Sunday, and the party's premier in the eastern state of Saxony resigned on Wednesday, saying younger, fresher leadership was needed to revitalize the conservatives.
Should the three party groups fail to form a coalition, some in their ranks fear this could lead to public disenchantment and fuel further support for the far-right Alternative for Germany (AfD), which entered parliament for the first time last month.
If she cannot clinch a three-way coalition pact, Merkel could try to form a minority government, or else call fresh elections – an unprecedented scenario.
Alternatively, she could try to team up with the SPD. The Social Democrats reject that scenario, though senior party official Thomas Oppermann has indicated they could reconsider on one condition: Merkel steps aside.