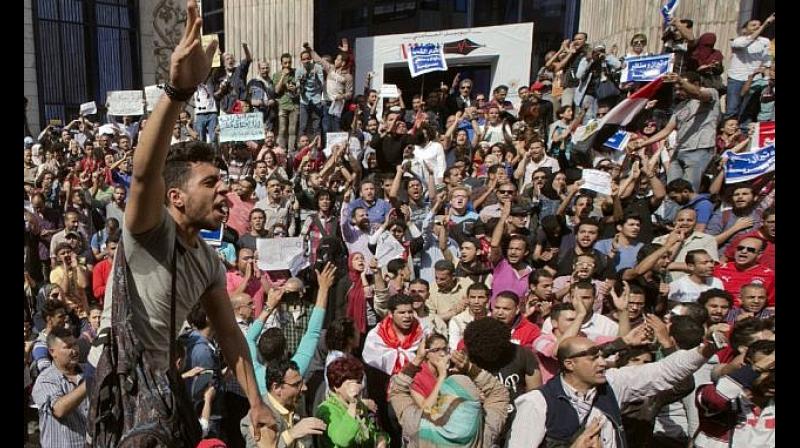 The 'Ayam al-Ghadab', or 'Days of Rage' protests continued for fifth day on Monday, with demonstrators protesting against US president Donald Trump's decision to proclaim Jerusalem the capital of Israel.
Hundreds of students at the Arab Academy for Science, Technology, and Maritime Transport in Alexandria organized a protest on Monday, defiantly asserting that Jerusalem is an Arab city and the capital of Palestine.
Hundreds of students from Mansoura University on Monday gathered to protest in al-Ketab Square, with the protest organized via social media networks.
Students held banners declaring solidarity with the Palestinian cause, one read 'Stand up Egyptian man, Jerusalem is Arab', while others echoed a similar message, 'The case is Jerusalem is Arab', 'Jerusalem is the capital of Palestine', and 'Al-Aqsa Mosque is for Muslims'.
President Donald Trump announced last Wednesday the United States would recognize Jerusalem as Israel's capital, breaking with decades of US foreign policy and international consensus agreeing that the city's status must be determined through Israeli-Palestinian negotiations.
The Council of Deans at Kafr el-Sheikh University, located in the middle of the Nile Delta, also rejected the US decision and warned of repercussions, saying the Jerusalem move is an insult to Arabs, Muslims, and Christians, and will increase tensions in the Middle East.
Further, the council stressed that Jerusalem remains an Arab city, and argued that the decision violates international resolutions pertaining to the Palestinian cause.
Meanwhile, Hafez Salama, commander of 'Al-Muqauma al-Shabyaa' (The Popular Resistance) in the Suez Governorate, made similar comments stating that all Palestinian territories belong to Muslims.
He also urged for all former Palestinian citizens who now reside in neighboring countries to have a right to return to their homeland, a central element of the Palestinian cause, which activists have been battling to secure for decades.
Elsewhere, members of the Journalists Syndicate called for an urgent meeting after two journalists – Hossam al-Swaify and Ahmed Abd el-Aziz – were arrested for participating in a demonstration against the Jerusalem decision in front of the Syndicate on Thursday.
Edited translation from Al-Masry Al-Youm