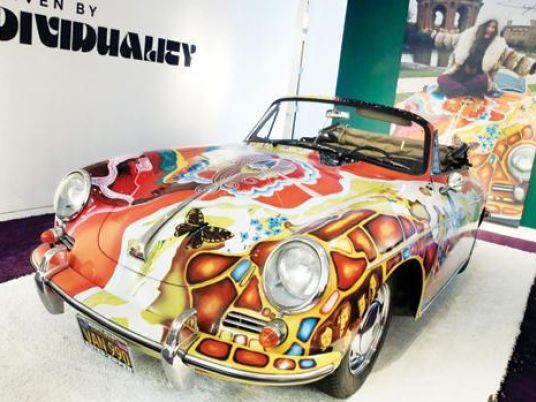 The famous psychedelic Porsche convertible driven by late rock legend Janis Joplin smashed estimates to sell for nearly US$1.8 million in New York on Thursday in a frantic five-minute bidding war, RM Sotheby's said.
It was a world-record price at auction for a Porsche 356, a spokesman for the firm said.
The custom-painted 356C 1600 Cabriolet model, dating back to 1964 and which had never left the Joplin family, tripled its highest pre-sale estimate of $600,000 in a five-minute sale peppered with applause.
Joplin — who sang "Oh Lord, won't you buy me a Mercedes-Benz" — forked out for the Porsche but decided its original white finish too dull.
She had it painted red with a mural that included images of butterflies and jellyfish, as well as of Joplin and her band.
The auctioneer opened bidding at US$300,000 before a packed room in New York with RM Sotheby's staff manning a bank of phones. In seconds, the price jumped to $600,000.
A ripple of applause broke out when bidding reached US$1 million and again at US$1.6 million. In just five minutes the car was sold, for US$1.76 million, including buyer's premium.
"Janis Joplin's 356C is without question one of the most important Porsches of all time," said Ian Kelleher, managing director of RM Sotheby's West Coast Division, announcing the sale earlier this year.
"It's a fantastic automobile that transcends art, pop culture and social movements, and is as groundbreaking and stunning as the renowned singer was herself."
Joplin constantly drove the car, which was parked outside the Hollywood hotel where she died of an overdose in 1970.
The Porsche has since belonged to Joplin's family, which lent it to the Rock and Roll Hall of Fame in Cleveland, where it was on display from 1995 until the family decided to sell it.
It was one of the star lots in the Driven by Disruption auction of sports cars at Sotheby's in New York.