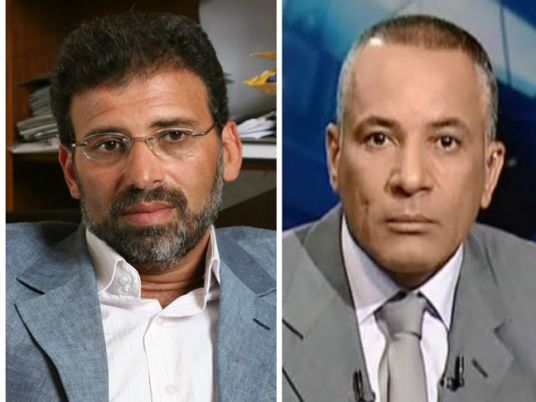 Members of Egypt's Journalists' Syndicate are
petitioning
to cast out a colleague who screened alleged personal photos of an elected parliamentarian during his daily TV show.
Members from the syndicate's public assembly have collected signatures urging the union's board to take what they call "urgent legal action" against Sada el-Balad presenter Ahmed Moussa after the latter screened scandalous photos allegedly depicting MP and film director Khaled Youssef with an unidentified woman.
The controversial media host, known for his strong connections with security apparatuses and his involvement in slander litigations against opposition figures, had screened photos of a man whose face resembled Youssef's. Apologizing to his viewers for the step, Moussa urged Youssef to give a statement to either deny or confirm that the photos were his.
Abul-Maati al-Sandoubi, a syndicate member coordinating the campaign, said he and other colleagues had managed to collect 150 signatures that were submitted to the managing board demanding that Moussa be stripped of his membership.
"Moussa should be interrogated by the syndicate," Sandoubi told Al-Masry Al-Youm, adding that a measure should also be taken to "prevent him from appearing on-screen since he continues to violate people's personal lives and attack the January 2011 revolution."
According to Sandoubi, a conference will be held at the syndicate within days to declare the final tally of signatures collected as part of the campaign.
Edited translation from Al-Masry Al-Youm