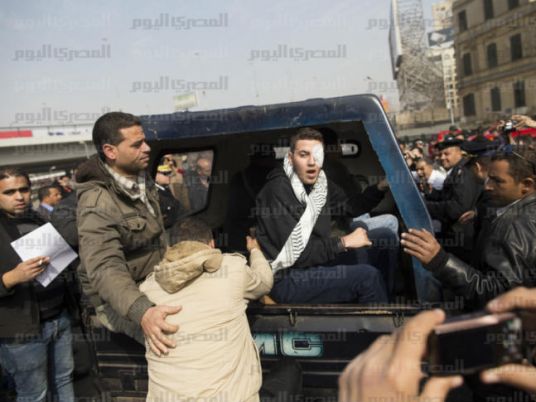 Security authorities released on Friday several journalists who were arrested in a crackdown in downtown Cairo Thursday evening, most notably Al-Masry Al-Youm caricaturist Makhlouf, and journalists Sameh Hunein and Bassem Sharaf.
The Interior Ministry has not yet made any statement on the reasons for their arrest or any charges to be brought against the journalists.
Makhlouf and Hunein announced on Facebook they have been released.
"I am out, thank God," Hunein wrote.

"Thanks a lot guys. I am fine and I am back. We were arrested from Al-Fallah coffee shop," Makhlouf wrote.
Interior Ministry sources said the Cairo Security Directorate arrested several people described as "suspects" during a sweep of coffee shops in the downtown Cairo area, but did not give details of the reasons.
The crackdown which included coffee shops of Al-Borsa, Fishawy, Ghazal, and others, as well as the houses of a number of activists, prompted debate on social media.
"A repressive frenzied campaign to arrest young people from the streets, cafes and homes that does not reflect the strength of the regime as much as it reflects its fragility, loss of balance, and panic of the public movement against the sale of two islands," lawyer and former presidential hopeful Khaled Ali wrote on Facebook.
Refaat al-Soweify, a Facebook user, wrote defending the crackdown: "What's the problem with it if you are not doing anything wrong? Or you just want chaos, ruckus, and attack against the state institutions! Definitely, there are many who offend the state in the name of freedom and dignity. Freedom and dignity have limits and are a responsibility of chaotic people."
"How could such a regime have a future after antagonizing young people in that way?! Youth are the future and dinosaurs are doomed to extinction," former MP Ziad al-Eleimy wrote.
Activist Mona Seif mocked the crackdown on her Twitter account, calling on people to write every night before they go to sleep that they will disappear because they are sleeping, not arrested.
"What's happening is typical madness. They randomly arrested young people in downtown Cairo without proof or evidence, and then they threw them into the streets again," TV host Youssef al-Husseiny wrote on Facebook.
Lawyer Gamal Eid said: "Boys, tell them who the street belongs to!"
"The street belongs to us alone, the land will be ours on [April] 25, and detainees shall be free!" he continued.
"God damn you and damn freedom, democracy, the press, and media if they will bring ruin to Egypt. Wake up may God have mercy on you," a Facebook user named Fai Tasu wrote.
Fekry al-Faramawy wrote: "When the state arrests those saboteurs, we will back it. We are the only ones out of the entire world who always demonstrate and we need to stop"
"You are sitting in a coffee shop to determine the future of the country?! You are feloul [remnants of the former regime] who take money from thieves that looted the country and the poor's money and want the country destroyed," Ahmed Sayyed wrote.
"Why are they sitting in coffee shops? And then they go on streets to chant against unemployment! Look at what Syrian youth are doing and how they make jobs for themselves in Egypt to afford for a living to their families. We are cursing our bad luck. We are the problem… we do not want to learn to earn," Madiha Mostafa said.
Edited translation from Al-Masry Al-Youm