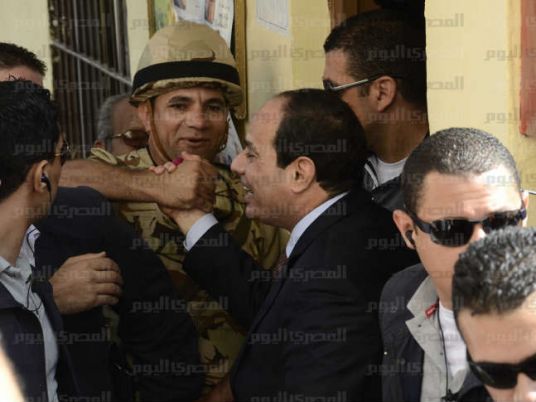 The Supreme Constitutional Court (SCC)'s great hall awaits former Defense Minister and presidential hopeful Abdel Fattah al-Sisi, who according to preliminary results won the 2014 presidential elections, to be sworn in before members of the general assembly in accordance with the Constitution amid the absence of a parliament.
The same scenario took place in 2012 when toppled President Mohamed Morsy was sworn in at the Supreme Constitutional Court before a parliament was elected.
Judicial sources expect Sisi to be sworn in either Saturday or Sunday 7 or 8 June next after the official results of the elections are announced by the Presidential Elections Commission.
The judicial sources added that Interim President Adly Mansour would be present in the hall as an audience, not as member of the court's general assembly.
Vice-president of the Supreme Constitutional Court Mohamed al-Shennawy said the general assembly would be headed by Acting President of the Supreme Constitutional Court Anwar al-Aasy, as Mansour, who is head of the court, currently occupies the interim president's office.
The swearing-in ceremony will take place inside the SCC'S great hall, fit for almost 1,000 people. Members of the general assembly of the SCC will be wearing their blue uniforms and green ribbons, Shennawy added.
Edited translation of Al-Masry Al-Youm