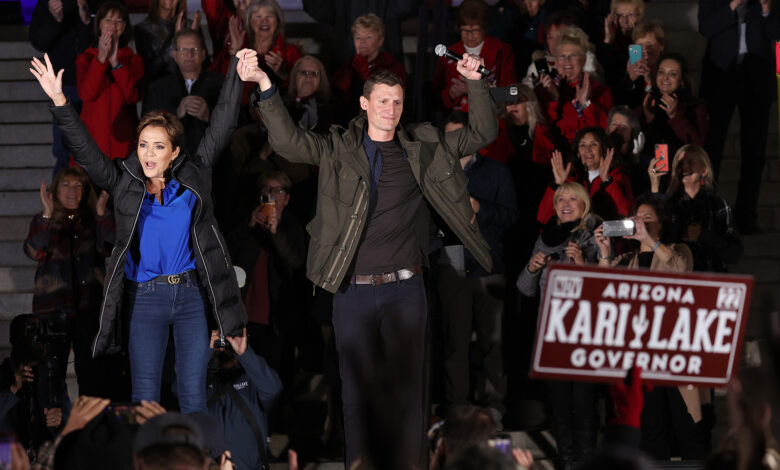 Arizona Republican gubernatorial nominee Kari Lake and Senate nominee Blake Masters on Monday rallied supporters the night before Election Day, encouraging Arizonans to cast their ballot to enact an "America First" agenda in Arizona.
Lake's voice wavered a bit as she appeared to grow emotional, saying "This is so beautiful … I just prayed to God before I walked out, I said give me the words I need."
"We are so ready for a change, aren't we, in this country," Lake said. "We're so ready for fair elections, aren't we? And yet I know, like many of you, and especially me, I'm worried about tomorrow."
Lake — who has repeatedly called the 2020 election "stolen"– again made a reference to "stolen elections" Monday night.
"There's not a darn thing Katie Hobbs can screw up tomorrow to make our win any less significant because we're going to win tomorrow, we're going to vote tomorrow, and we are going to take Arizona back," she said to a cheering crowd.
"We are America First and Arizona First and tomorrow we're going to vote to put Arizona first, right?" Lake said.
Lake is running against Democratic opponent Katie Hobbs, who currently serves as Arizona's secretary of state.
Masters, an Arizona Republican Senate nominee, called Tuesday election "a save the country election."
"If we don't get the right Republicans elected into office tomorrow, man we're just one day away from losing our country. But I think we're one day away from winning this country back."
Masters also expressed his support for Lake, saying she is "going to give DeSantis a run for his money."