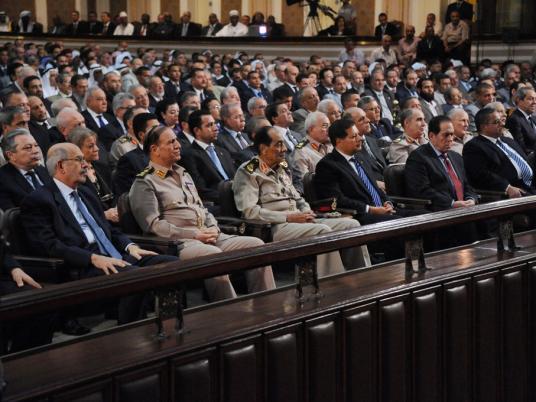 The Kefaya movement condemned President Mohamed Morsy on Sunday for thanking the military council during his speech at Cairo University on Saturday.
The movement said on its Facebook page that it "rejects and criticizes Morsy for praising and thanking the military council."
The statement mentioned some of the military's mistakes during the interim period, which officially ended with the transfer of power to Morsy on Saturday.
The Kefaya statement went on to wonder why the Muslim Brotherhood is still staging a sit-in in Tahrir if, according to Morsy, the military council has already fulfilled its promises.
"Principles cannot be divided and constants do not change, whatever the goals were," it concluded.
In his speech on Saturday, Morsy expressed appreciation toward Field Marshal Hussein Tantawi, head of the ruling military council, and leaders of the armed forces, saying, "I'd like to thank Field Marshal Tantawi, all of the attendees, soldiers and armed forces members."
The Kefaya movement was established in 2004 during the rule of ousted President Hosni Mubarak. It has consistently criticized the military council that took power after Mubarak's ouster in 2011.