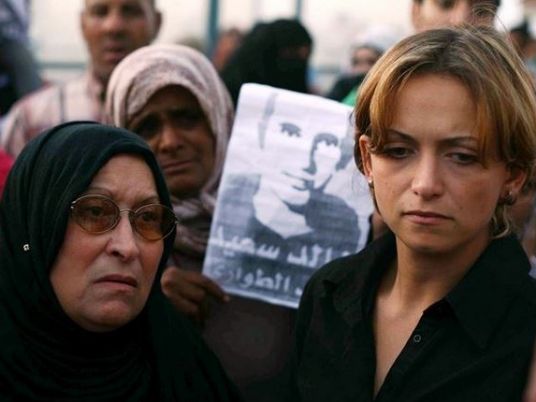 Egypt's Alexandria Criminal Court has adjourned on Tuesday the retrial of the two policemen accused of torturing 28-year-old Khaled Saeed to death. The court will resume the trial on 2 December 2013.
The case was adjourned in order to call up witnesses, including Khaled Saeed's coroner Mohamed Abdel-Aziz who was evaluated whether or not he was qualified to do the autopsy, according to Mahmoud Afifi, Khaled Saeed's attorney.
The court proceedings happened amidst minor clashes between political activists and police men guarding the court that ended up detaining a few of the protesters.
"But they were soon released as the chief of the Alexandria security directorate affirmed that police and people should be united together against a specific faction," Afifi said referring to Muslim Brotherhood. "Releasing the protesters is evidence that the police has changed somewhat for the better."
Khaled Saeed was killed by police in Alexandria in June 2010 and became an iconic figure that inspired Egypt's 2011 uprising that led to Mubarak's ouster. Saeed's death was a rallying point for activists campaigning against widespread police brutality under the regime of former President Hosni Mubarak.
The two defendants, Mahmoud Salah Mahmoud and Awad Ismail Suliman, were sentenced to seven years in jail in October 2011. Family and supporters of Saeed were shocked at what they considered a light sentence.
According to Afifi, the defendants appealed for lighter sentences and the prosecution appealed for tougher penalties. The court accepted both appeals and decided to begin the retrial on June 1, 2013.
On June 1, 2013, the court ordered the defendants' release because they had been detained for 35 months, exceeding the detention cap of 18 months.
Although there have been many cases of torture and deaths resulting from torture, Khaled Saeed's case gained unprecedented attention because "he was tortured to death in Alexandria's streets in the public eye rather than in an isolated area like a detention cell," said Saeed's attorney.
Saeed died after two plainclothes policemen dragged him out of an internet cafe in the northern port city of Alexandria and beat him to death, according to witnesses.
Police portrayed Saeed as a drug dealer and claimed he choked on a packet of drugs he swallowed as they approached.
But forensic reports showed later that the packet had in fact been forced into his mouth. Pictures of Saeed's corpse were widely circulated on social media, showing his body covered with bruises, his teeth broken and jaw smashed.
The inconsistent and irrational reports presented by both Mubarak's interior ministry and forensic medical authority triggered a wave of public resentment concerning police brutality during Mubarak's tenure.
"People then believed that the forensic medical authority is politically motivated as it takes orders from the regime, yet, if the interior ministry admitted its involvement in the torture case and submitted the officers who committed the crime for trial, there would have be no such resentment against the police," said Afifi.
The death of 31-year-old Sayyed Belal, a Salafi who was arrested and tortured to death following a New Year's Day attack on the Two Saints Church in Alexandria in 2011, has also thrown fuel on the fire of the January 25th revolution.
"The two cases are very similar and happened in Alexandria," Afifi said.
According to Afifi, the lead attorney for Khaled Saeed's case, torture cases are still occurring but have not become as brutal and rife as they were during the Mubarak regime.
Like Saed, Mohamed el-Gendy and Mohamed el-Shafie were allegedly tortured to death in January 2013 during Morsi's one-year tenure.
El-Gendy, 23, was rounded up along with other youth protesters on January 25, the second anniversary of the anti-Mubarak revolt, and taken to al-Gabal Al-Ahmar, a state security camp on the outskirts of Cairo.
Reports said el-Gendy remained there for three days during which he was interrogated and beaten to death. Officers allegedly became more aggressive when he talked back to them.
The interior ministry denied accusations that el-Gendy had been tortured, saying in its report on the matter that he was found injured on the street after he was hit by a car on January 28 and that he had been taken to Cairo's Hilal Hospital where he died some days later.
Yet, for both of them, investigations could not identify who committed the crime. For el-Gendy "the forensic report suggested that he was tortured to death but since no aggressor was identified, the case was shelved," said Afifi.
El-Gendy's attorney, Islam Khalifa, said the interior ministry is becoming more brutal, especially towards political activists. Khalifa said the ministry seems to be avoiding submitting any officer violating human rights for trial in a bid not to break police morale during this critical time. "The absence of monitoring in detention cells permitted inmates to be beaten and, most importantly, no perpetrator being found," said Khalifa.
Khalifa, who works at Haqanya Center for Human Rights, also blamed the judiciary for being slow in considering torture cases. "To that end, evidence fades away with the passing of time or does not remain as strong as it was when the incident happened," he said. Khalifa pointed to his client's case: "How can I bring evidence from al-Gabal Al-Amar that no longer exists?"
Khaled Saeed's lawyer Mahmoud Afifi expects a final verdict in his client's case to be issued before the end of 2013. Afifi believes this confirms the fact that torture in Egypt has been on the decline since the 25 January revolution.
"Such cases will not end overnight though," he claimed. "It will take time for police to change its practices. The relationship between [Egypt's] youth and the police will change."