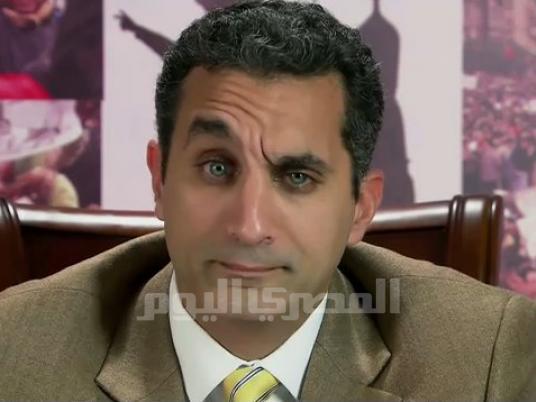 The Cairo Administrative Court dismissed Saturday a lawsuit demanding that Bassem Youssef's show be banned.
The court based its decision on the lawsuit "having no direct personal interest," which is a condition for cases to be considered before the State Council.
A lawyer from the Muslim Brotherhood had filed a complaint against the popular TV satirist and his show Al-Bernameg, which is aired on privately owned satellite channel CBC.
The plaintiff, Mahmoud Hassan Abul Enein, said that Youssef "through his sarcastic show, mocked and ridiculed the president of the republic and used sexual connotations that exceed permissible criticism and objectivity, which represents a trespass against the symbol of the state."
Aboul Enein submitted a set of CDs along with the complaint which he says contain scenes of Youssef mocking the president and accusing him of being a dictator, as well as insulting members of the Brotherhood.
The complaint also demanded that CBC be taken off the air, a request which the court also denied.
However, the General Authority for Investment and Free Zones has sent a warning to CBC demanding it take the show off the air, threatening to cancel its license and shut the entire channel down.
Youssef was released on LE15,000 bail by the Public Prosecution last week pending further investigations into complaints accusing him of contempt for Islam and insulting the president.
Edited translation from MENA