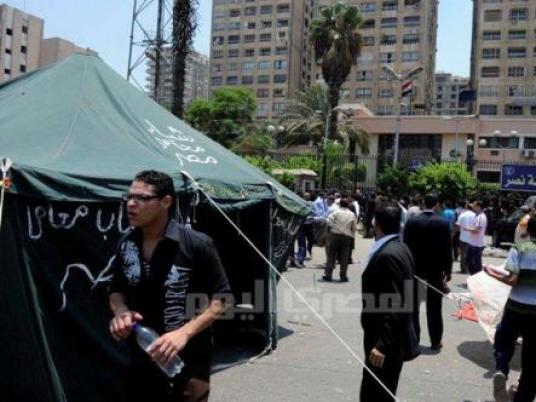 The Nasr City police station crisis, in which lawyers said they were assaulted by policemen, has highlighted the problem of unscrutinized police violations, according to several lawyers.
Clashes erupted on 5 July between policemen and lawyers at the police station. Lawyer Mohammed Abdel Aziz had a dispute with a police officer, which escalated into a physical altercation. A number of lawyers then went to the police station, where they were allegedly locked up and beaten by police officers for five hours.
After holding a sit-in by the Nasr City police station, lawyers moved their protest to outside the Lawyers Syndicate in downtown Cairo. They carried signs reading, "We are not thugs — we have a case."
The incident highlights the latest chapter in an ongoing conflict between judges, lawyers, and the police. Allegations of assaults against lawyers inside police stations have been common, both during Hosni Mubarak's rule and since his ouster.
"This is not the first incident. We won't forget the Tanta, Maghagha and Damanhour incidents," said Lawyers Syndicate head Sameh Ashour. "We will get all the lawyers' rights."
In 2010, two lawyers were sentenced to five-year jail terms for assaulting a prosecutor in Tanta, in a case that fueled lawyers' protests and sit-ins across the country. But while the Tanta crisis was a pre-revolution occurrence, the Damanhour incident occurred after the 25 January uprising. In early July 2012, a policeman reportedly beat a lawyer who criticized the police for not having changed since the Mubarak era. A few weeks earlier, in June, lawyers protested in the town of Maghagha in Minya after policemen slapped one of their colleagues. The ensuing clashes left seven injured.
The Nasr City conflict followed a pattern similar to previous incidents. Abdel Aziz recounted going to the police station to ask whether one of his clients would be interrogated by the prosecution that night, and to check on his condition. According to Abdel Aziz, the policeman he was addressing ignored him at first, and when he asked again the policeman responded aggressively, almost throwing his notebook at him.
"When I was trying to defend myself, other officers in the police station thought I was attacking the policeman so they started beating me up," Abdel Aziz said. The client's family then called Abdel Aziz's family, at which point more lawyers showed up at the police station and were beaten up as well.
"It was said I called other lawyers to come for support. That's not true. They broke my mobile phone in the first place and they treated me like a criminal," Abdel Aziz said.
When asked whether the attack might have been motivated by previous dealings with the same police station, which had previously been accused by human rights activists of practicing torture, Abdel Aziz said, "I had no relation to Nasr City police station, and I haven't had any clash with policemen before. This is exceptional for me."
Haitham Ibrahim, one of the lawyers who joined Abdel Aziz at the police station, described being beaten by the officers. "They locked us up until six in the morning, hitting us with the back of their guns, sticks and other small weapon. They were brutal, with no mercy or sense of humanity." Eventually, army officers intervened to end the clashes. "They came at the right moment. I thought I was going to die," said Ibrahim.
"There have always been problems between lawyers and police officers, but usually as individual cases, and when the syndicate got involved these disagreements would end," said Wael Soliman, one of the protesting lawyers. "This time, when the syndicate got involved and sent 11 lawyers, they were all beaten up and the situation escalated and became very offensive."
On 12 July, Ashour declared that lawyers are legally barred from defending policemen in any case, and he also barred policemen from access to the Lawyers Syndicate after retirement. Lawyers Syndicate deputy head Abdel Gawad Ahmed said he submitted a complaint to the UN Office of Judiciary and Lawyers' Independence demanding an official visit to Egypt in order to investigate the repeated assaults on lawyers.
Though many of the protesting lawyers said clashes happened during Mubarak's rule, Abdel Aziz thought that they were not as severe. "They overreacted, as if they were ordered to do so," he said.
According to some protesters, policemen have forgotten how lawyers stood by their side after the police withdrawal on 28 January during the uprisng last year, and helped them regain the people's trust.
"This appears to be planned to send a message to the new president and the general public that the Ministry of Interior is regaining its power," said Mohammed Othman, head of Egypt's Lawyers Syndicate for North Cairo, "but we will never allow for the return of [former Interior Minister] Habib al-Adly's system, especially not using lawyers."
Othman stated on behalf of the Lawyers Syndicate that until the accused officers are put on trial, lawyers will continue to protest. "These officers should be stopped so that they don't mess with the evidence," Othman said.
"The Ministry of Interior is filled with remnants of the old regime," added Soliman. "It needs to be cleansed and it needs to change the way it treats any Egyptian citizen, not just lawyers."
The general prosecutor is still investigating the case, and after meeting with Ashour Interior Minister Mohamed Ibrahim issued a booklet for the police specifying officers' proper treatment of lawyers.
But whether these measures will stem an ongoing crisis remains to be seen.