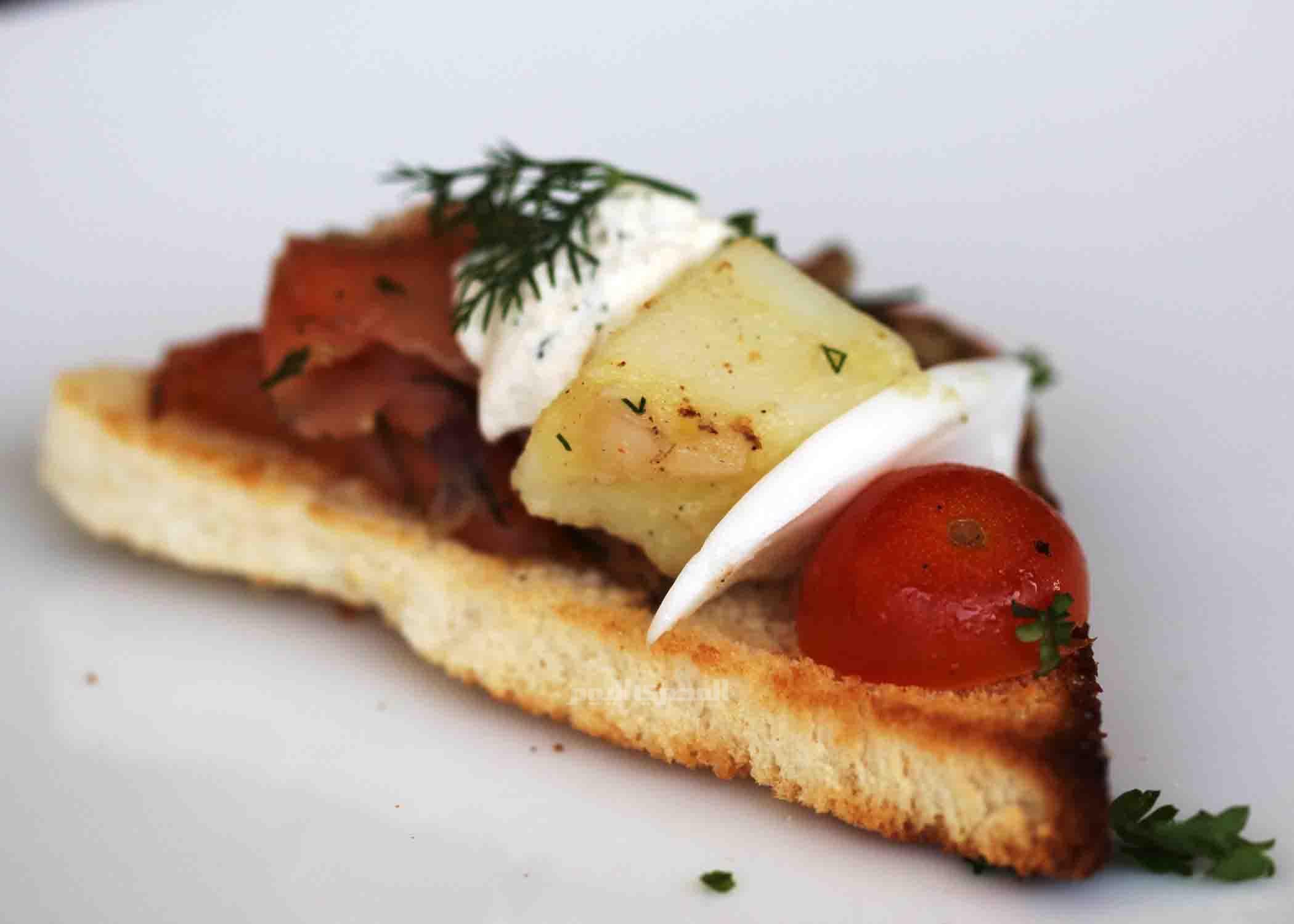 Sequoia restaurant in Zamalek has decided to put the area between the entrance and the restaurant to good use and their new restaurant, Left Bank, opens on Sunday, 22 January. Advertised as the first retro bistro and bakery to foster a working reading environment by the Nile, Left Bank seeks to shelter and feed the creative and intellectual of Cairo.
It is a fabulously lit, spacious bistro with folding glass walls between itself and the Nile. The furniture is cozy and the interiors are a nice mix of retro and comfy; the furniture has a Scandinavian feel to it but the surrounding bookshelves add a warm touch. The color palette mixes cold with warm. The floors are mosaic, a recreation of the layout of Tahrir Square.
Left Bank's menu is satisfying and diverse, but because our visit came before the official opening, we don't know exactly how expensive it is.
We started out with bruschettas topped with tomato and potato. The salads were fresh, with the fois gras salad the most creative. The strong taste of duck liver created a pleasant contrast with the sting of mustard sauce, subdued only by lettuce. The salad nicoise was also tasty — crutons a nice addition to the fishy mix.
The four cheese pizza was thin and light, very similar to Italian style pizza. The pastas were good — pesto, chicken cream and seafood. The chicken cream needed a little salt but the seafood in white sauce was perfect.
The desserts were creative and colorful. There was a large array of "mini indulgences" — desserts in small glasses for less daunting portions: chocolate mousse, dark chocolate delight, praline chocolate and strawberry and whipped cream. The passion fruit and coconut delight was the star of the dessert menu — its sweet yet tart taste will awaken your taste buds.
Left Bank has an unrivaled range of cakes, breads and macaroons. The bakery also delivers and caters for house parties.
With its luscious food, snug space and beautiful scenery, we will see if Left Bank can succeed in its aim to be a new haunt for the artsy community, a sister spot to downtown's Café Riche, Estoril and Greek Club, which currently attract Cairo's journalists, artists, intellectuals and political activists.
It plans to put together a monthly events calendar that includes cooking and flower arrangement classes, as well as acting auditions, seminars, talks and live performances.
Left Bank also has a bookshop that sells magazines, fiction, nonfiction and self-help books in English, as well Arabic books. There is a kids' corner that provides space for reading and drawing.
The bistro seats around 100 people and working hours are from 8 am to 11 pm for breakfast, lunch and dinner.