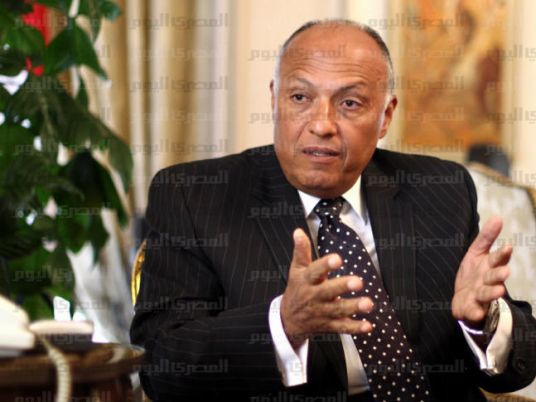 Libya needs to form a unified government before the United States and European allies opt for any military intervention against thousands of Islamic State fighters in the chaotic North African country, Egypt's foreign minister said on Tuesday.
"This has to be a Libyan-led process," Egyptian Foreign Minister Sameh Shokri told Reuters in an interview, while acknowledging that efforts to forge a single government from two rivals in neighboring Libya have been "difficult."
US counter-terrorism officials have been alarmed at the growth of an Islamic State affiliate in Libya, where it has amassed thousands of fighters, seized a coastal strip that includes the city of Sirte and attacked oil infrastructure.
The Arab country plunged into chaos in the aftermath of the uprising against longtime dictator Muammar Gadaffi, whose fall was helped by a NATO-led air campaign in 2011.
Speaking to the US Congress on Tuesday, Director of National Intelligence James Clapper said Islamic State's Libya affiliate is "one of its most developed branches outside Syria and Iraq." The affiliate, he said, "is well positioned to expand territory under its control in 2016."
US officials have debated increasing air strikes in Libya or deploying US Special Operations Forces, but they say any military campaign is still weeks or even months away.
Shokri suggested that international intervention without Libyan approval could backfire.
"The experience in the past … might have been met by the Libyan people with a little bit of concern, the outcome of the last intervention," he said, referring to turmoil that followed in the wake of the West's help in bringing down Gadaffi.
"I think we all recognize that this is an issue that primarily will have to be dealt with by Libyans," he said.
Despite an agreement signed in December, Libya's rival governments have failed to finalize arrangements for a Government of National Accord.
In the interview, Shokri rejected growing criticism of Egypt's human rights record.
Human Rights Watch last year cited estimates that authorities have jailed more than 41,000 people since President Abdel Fattah al-Sisi took power in 2014, after the military ousted Muslim Brotherhood president Mohamed Mursi the previous year.
Shokri said he objected to "broad generalizations and the use of numbers that are not authenticated or verified."
"There are certainly members of the Muslim Brotherhood who are in prison, who are facing trial for having perpetrated actions or activities that are not within the confines of the law," he said.
"We are doing so in the context of a judicial system without any resort to any extra-judicial measures," he said.
Egypt is fighting an Islamist insurgency in Sinai that gained momentum since Morsi's ouster in mid-2013. Hundreds of soldiers and police have been killed.
Shokri dismissed what he called "innuendoes" from some in Italy that an Italian graduate student, Giulio Regeni, whose body was found by a Cairo roadside bearing signs of torture, was a victim of Egypt's security services. Regeni was researching independent trade unions in Egypt.
Egypt is fully cooperating with the Italian government, Shokri said.
"It's unfortunate that he might have been subject of some form of criminality. And we hope that we will be able to come to the bottom of it and bring to justice whoever is responsible for his tragic death."