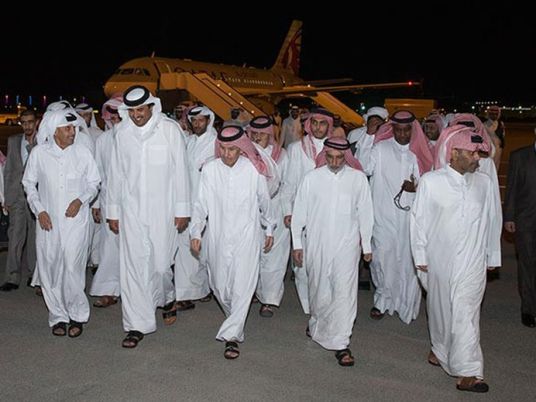 A move by four Arab states to blacklist dozens of figures with alleged links to Qatar could squeeze liquidity at Qatari banks which get a significant amount of their funding from the region.
Qatari banks have around 60 billion riyals ($16 billion) in funding in the form of customer and interbank deposits from other Gulf states, Chiradeep Ghosh, banking analyst at SICO Bahrain, said.
But the United Arab Emirates central bank has ordered local banks to stop dealing with the 59 individuals and 12 entities with alleged links to Qatar and to freeze their assets, state news agency WAM reported late on Friday.
It has also told them to apply enhanced due diligence for any accounts they hold with six Qatari banks, including Qatar National Bank (QNB) which is the Middle East and Africa's largest bank, WAM said in its report
The six banks — QNB, Qatar Islamic Bank, Qatar International Islamic Bank, Barwa Bank (IPO-BABK.QA: Quote), Masraf Al Rayan and Doha Bank — did not respond immediately to requests for comment.
Saudi Arabia, the UAE, Egypt and Bahrain had earlier branded as terrorists the same individuals, including Muslim Brotherhood spiritual leader Yousef al-Qaradawi, and entities including Qatari-funded charities Qatar Charity and Eid Charity.
The move followed the isolation of Qatar by the four states, which have cut all diplomatic and transport links.
This pressure is likely to constrain the funding Qatari banks would be able to raise from Saudi Arabia, the UAE and Bahrain, one banker in the region told Reuters.
"All Qatari banks will struggle for liquidity and will have to pay a premium for funding from elsewhere outside these four countries," SICO Bahrain's Ghosh said.
Qatari banks, like their Gulf neighbours, have been struggling against a backdrop of lower oil prices, which has pushed up funding costs and raised non-performing loans.
"It is especially challenging as they're not very liquid as their loan to deposit ratios are already above 100 percent," Ghosh said.
In recent years several have also expanded outside Qatar's small domestic market to grow their business, with QNB holding a presence in several countries including Egypt, Turkey, Nigeria and UAE either directly or via affiliates.
UAE banks would find it relatively easy to comply with the rules as many had invested in improving their compliance systems in recent years and already complied with sanctions against a range of other entities and individuals, another banker said. ($1 = 3.6555 Qatar riyals) (Additional reporting by Rania El Gamal, Hadeel Al Sayegh, Maha El Dahan and Ali Abdelatti; Editing by Hugh Lawson)
Report by Tom Arnold and Saeed Azhar in Dubai; Reuters