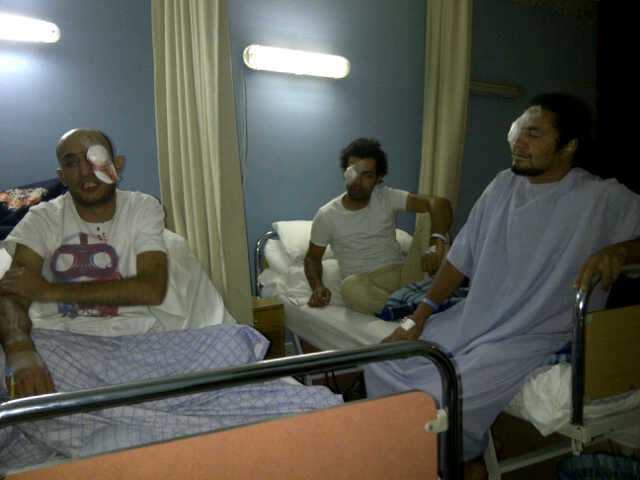 An atmosphere of hope and determination dominates at the International Eye Hospital, where two activists and a journalist are being treated for severe eye injuries they sustained in Tahrir Square on Saturday.
Two people were killed and more than 900 injured in clashes between thousands of protesters and the Interior Ministry's Central Security Forces (CSF) that erupted Saturday morning in Tahrir Square after the police violently dispersed a one-day-old sit-in.
As violence continues through Sunday, eyewitnesses say that the CSF intentionally aimed projectiles, including tear gas and rubber shotgun pellets, directly at protesters' heads.
On a hospital floor where three people risk losing sight in at least one eye, the injured and their loved ones projected a positive attitude as they celebrated the return of protesters in large numbers to Tahrir Square.
"How is Tahrir?" asked Ahmed Abdel Fattah, an Al-Masry Al-Youm video journalist who was struck in the eye by a rubber bullet as he awoke from anesthesia. He immediately struggled to open his intact eye to check Twitter for news from the square.
Abdel Fattah was shot Saturday while filming on the front lines of the battle on Mohamed Mahmoud Street.
He had an initial surgery to close the rip in the eye and is expecting to undergo another surgery later this week to remove the bullet that is still lodged in it.
"I am a videographer, my eye is my most precious asset," Abdel Fattah said. "But we will never stop. This is our job, it's what we know how to do best and we'll keep doing it."
In the same room is Ahmed Mohamed, known as Ahmed Harara. He is no stranger to eye injuries. On 28 January, the day that protesters defeated Mubarak's security forces, Mohamed was injured and lost half his sight after four pieces of shotgun pellets lodged in his right eye.
On Saturday, Mohamed was once again on the front lines of a battle with the police. "I don't know how to be anywhere else," he said. His remaining functional eye was injured, again by shotgun pellets.
Rather than cursing his luck for being shot in the eye again, Mohamed celebrates that this time he stayed conscious after his injury to savor the moment.
"I am extremely happy; the last time I was unconscious after I got shot, but this time I turned to the people and told them I had lost my other eye," said Mohamed. "All the people here in this room go down to the square asking for martyrdom. For me, I accept God's fate."
Malek Mostafa, a prominent blogger and activist, also received a rubber shotgun pellet in his right eye while he was trying to free a number of protesters trapped in a side street and suffocating from tear gas.
A picture of Mostafa smiling right after being shot, with blood coming out of his eye, has been circulating among activists and bloggers on social networking websites.
"I was trying to reassure my friends that I am fine. I wasn't able to talk so I thought the best thing to do is to smile," said Mostafa as he lay on his hospital bed, surrounded by his loved ones. Mostafa said that his doctor told him there is a good chance he will be able to see again.
The three men all complained that the first hospital they want to, Qasr al-Aini Hospital near Tahrir Square, offered them poor care. Then they relocated to the International Eye Hospital in Dokki. Doctors say they still can't comment on the level of damage to the victims' eyes until further tests are done.
The three bloggers refused to give their testimony to the police officer that was sent to hospital, but say they will file a collective lawsuit with the general prosecutor.
"We don't want the Interior Ministry, which is accused in this crime, to be the party that carries out the investigation," said Malek Adly, a human rights lawyer who is representing all three men. Adly added that he has pictures of the policemen that shot the three men.
All three hope that the battle that cost them so much will lead to something good for Egypt. And they all want permission from their doctors and families to return to the square.
"I feel like my place is not here, it's in the square," said Abdel Fattah. "I want to go back there right now."