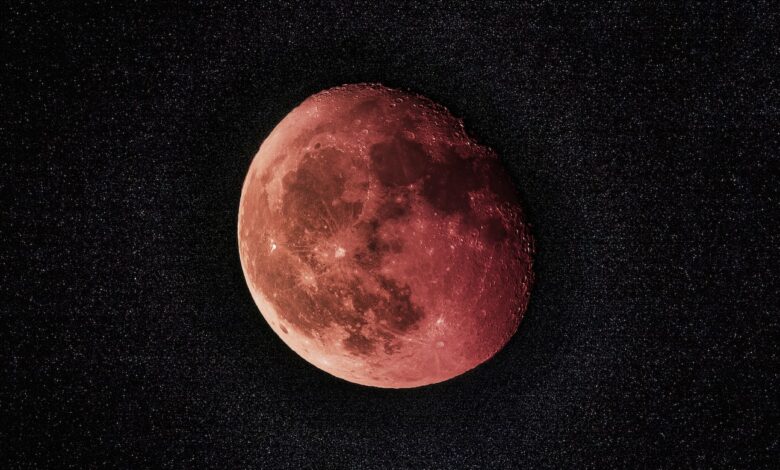 After two weeks, the second and last lunar eclipse will occur in the year 2022.
On Tuesday, the globe witnessed a partial solar eclipse that affected Egypt, most of the countries of the Arab world and different parts of the world.
The phenomenon lasted for four hours and four minutes, but in Egypt it lasted for about two hours and 16 minutes.
The occurrence of a solar eclipse is usually associated with the occurrence of a lunar eclipse about 14 days later, and it will coincide with the full moon phase of Rabi' al-Akhir 1444AH.
2022 lunar eclipse
A total lunar eclipse is expected to occur in on November 8, and it will be seen in several regions of the world, including the west coast of the US, Australia, as well as Southeast Asia.
However, the next lunar eclipse will not be seen in Egypt or any of the regions of the Arab world.
It was preceded by the first lunar eclipse in 2022, which occurred on May 16, when the Earth witnessed a total lunar eclipse 14 days after the partial eclipse of the sun, which occurred on April 30.
Ashraf Tadros, Professor of Astronomy at the National Research Institute of Astronomy and Geophysics, explained the reason for the occurrence of a lunar and solar eclipse.
A solar eclipse happens when the shadow of the moon falls on the Earth and it occurs during the day, but a lunar eclipse happens when when the moon moves into the Earth's shadow, he said.
Tadros emphasized that solar eclipses of all kinds, whether total, partial, or annular, do not occur unless the moon is full and at that time the moon is between the sun and the Earth, when the moon's shadow falls on the earth.
He explained that a lunar eclipse does not occur unless the moon is full.
At which time the earth is between the sun and the moon and the earth's shadow falls on the moon, and therefore the period between solar and lunar eclipses is always about two weeks, and this is the interval between the new moon and the full moon.
The first of Rabi` al-Akhir 1444AH
The Egyptian Dar Al-Iftaa surveyed on Tuesday evening the crescent of the second month of Rabi' al-Akhir 1444, AH.
It announced that the sighting of the crescent of the month of Rabi' al-Awwal 1444 confirming that Wednesday, October 26, 2022 is the first day of the month of Rabi' al-Akhir.