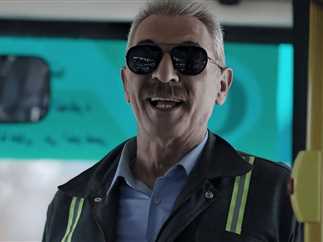 Actor Mahmoud Hemeida has finished filming the "al-Molhed" (The Atheist) movie, co-starring Hussein Fahmy, Sherine Reda, Ahmed Hatem, written by Ibrahim Issa and directed by Mando al-Adl.
The movie discusses the important and thorny issues in middle-eastern society such asreligious extremism and atheism.
Hemeida's prior film was the "Na'l Aam" (Public Transport), co-starring Sawsan Badr, Samiha Ayoub, Ahmed Bedeir, Dina, Mirhan Hussein, Mohamed Mahmoud Abdel Aziz, Mohsen Mohei Eddin, Iman Ayoub, Abed Anany, Nahla Salama, Heidy Refaat, Nour Khaled al-Nabawy, Hagar al-Sharnouby, Amira Adib, Mohamed al-Sawy, written by Walid Khairy, and directed by Adel Adib.