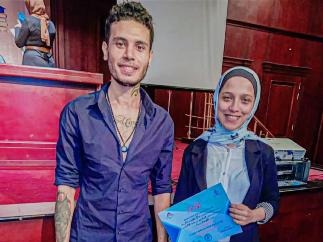 The Zagazig Criminal Court has sentenced to death by hanging the murderer of Salma Bahgat, known in the media as "the Zagazig Girl".
The victim was stabbed with a bladed weapon, after her family rejected the marriage request of the murderer due to many reasons one being his inappropriate behavior.
In the last court session, the judges received the medical report prepared by the Abbasiya Hospital for Psychiatric and Neurological Diseases, which confirmed that the accused neither at the present time of the murder or beforehand had any symptoms that indicated  psychological or mental disorder.
The report stated he was fully aware and responsible for his actions.
The court referred the case to the Grand Mufti to take his opinion on the defendant's execution. It set November 7 to pronounce the final complete verdict.
This crime happened in August, when security services in Sharqia Governorate received a distress call from many people complaining about a young man who stabbed a girl at the entrance of a property.
According to investigations, Bahgat, 22, a student at the Faculty of Information at Al-Shorouk Academy, was stabbed by the defendant, Islam Mohamed, as she entered an apartment building in the Montazah area of ​​the Zagazig Police Department.
He was immediately arrested at the scene and referred to a criminal trial for premeditated murder and has been remanded in custody ever since.