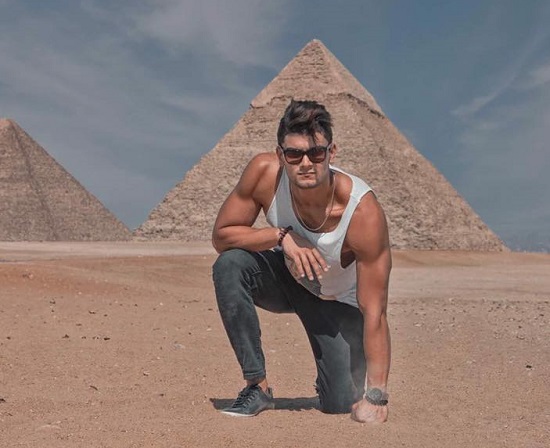 On his first visit to Egypt since winning the Man of the World title, Mustafa Galal al-Azali, the only Egyptian to sweep a world title in the largest beauty competition for males, had a photo session at the pyramids of Giza to support tourism, Youm7 reported on Thursday.
Azali's tour included the Sphinx, Cheops pyramid, and Chephren pyramid.
Azali ascended to the burial chamber at Cheops pyramid where he expressed amazement at Egyptian civilization. It was his first time to visit the Pyramids as he lives in the Philippines.
Azali had a number of commemorative photographs taken of him by photographer Mohamed Saeed.
Azali told Youm7 newspaper that many of his foreign friends know nothing about Egypt except for the Pyramids of Giza and want to visit them soon.
"I will encourage them to visit them as soon as I will organize many international competitions in Egypt to support tourism and I hope the Egyptian government will cooperate with me for the return of tourism again," he added.
Azali joined the fashion world not long ago, determined to make his mark.
Azali now has a legacy, after winning the 2017 'Man of the World' title at the championship competition, held in the Philippine city of Pasay.
A total of 27 contestants from around the world participated in the competition, and were evaluated on their intellect and personality.
After graduating from Alexandria University's Faculty of Commerce, twenty-six year old Azali moved to Dubai, where he worked for the government before taking a job at Porsche automobile manufacturer.
"During my time at the company, a friend encouraged me to work in fashion modeling because I had the qualifications such as the shape, taste and style," Azali said in an earlier statement after winning the competition.