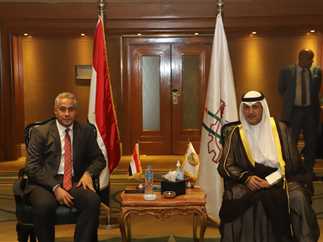 The Egyptian Minister of Manpower, Hassan Shehata, met with Mubarak al-Azmi, Director General of the Kuwaiti Public Authority for Manpower and head of the Kuwaiti government delegation participating in the 48th Arab Labor Conference, organized by the Arab Labor Organization in Cairo, to discuss the conditions of Egyptian workers in Kuwait.
At the beginning of the meeting, Shehata welcomed the Kuwaiti delegation to Egypt, stressing the depth of the historical relations between the two countries.
The meeting went over all aspects of protection and care provided to the Egyptian workers in Kuwait.
It also discussed the importance of activating the e-linkage system between the two countries to govern the contracting process between the Egyptian workers and Kuwaiti companies, so as to stop the issue of fake contracts.

Azmi stressed the importance of cooperation with the Egyptian Manpower Ministry and praised the ministry's role in rehabilitating and training Egyptian workers to work in Kuwait, welcoming the e-linkage system between the two sides.
Brotherly bonds
Egyptian President Abdel Fattah al-Sisi said in 2019 that the national security of Kuwait and the Gulf states is an integral part of Egypt's own national security.
The Emir of Kuwait Sheikh Sabah al-Ahmad al-Jaber al-Sabah at the time praised the sincerity and closeness of Egyptian-Kuwaiti relations.
He said that Egypt enjoys a special place for the Kuwaiti people. He praised Egypt's pivotal role in supporting the security and stability of Arab countries and their efforts to promote joint Arab action at all levels.
The Emir stressed Kuwait's aspiration to continue enhancing bilateral relations between the two countries, especially on economic and developmental levels.