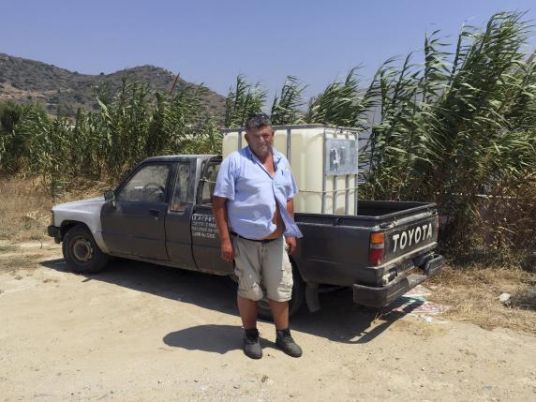 In green fields near Egypt's Mediterranean coast, one multinational company is harvesting its first crop of potatoes produced from local seeds to make a leading brand of chips.
Like other big manufacturers in Egypt, the global food and beverage giant is sourcing more of its raw materials locally to keep a lid on costs and limit price rises as consumers struggle with food inflation running at above 40 percent.
PepsiCo's Chipsy brand accounts for about 55 percent of the local potato chip market and requires 360,000 tonnes of potatoes a year, previously grown exclusively from imported seeds.
Egyptian pound Halved in Value Since Floating
The cost of imports has soared in Egypt since the country abandoned its currency peg of 8.8 pounds to the U.S. dollar in November, imposed restrictions on imports and increased tariffs on more than 300 products to curb a gaping trade deficit.
"Localising raw materials is extremely important at this time. We cannot depend on a dollar-based cost structure with an Egyptian pound revenue streamline," PepsiCo's North East Africa General Manager Ahmed El Sheikh told a recent conference.
PepsiCo started developing seeds locally in 2013 and the 2017 potato crop is the first to be use them. It used to import 12-15,000 tonnes of seeds a year for its Chipsy production.
The company still had to import about 40 percent of the seeds it needed for the 2017 crop but hopes to cut the proportion of imports to 30 percent next year.
Egypt has long relied on imports, with even local producers sourcing most components and raw materials abroad. The resulting trade deficit, coupled with the flight of tourists and investors following the 2011 uprising, has left the economy perpetually short of dollars, putting pressure on the Egyptian pound.
It has halved in value since floating last year and inflation has hit consumers purchasing power, making it difficult for companies to pass more costs onto the public. Instead, manufacturers, including several major listed companies, are looking to replace imports with local supplies.
Manufacturers Turn to Local Packaging
US candy and pet food conglomerate Mars Inc, which produces chocolate bars such as Galaxy, Mars, Twix, Bounty and other popular brands, has been increasing its base of local packaging suppliers in Egypt over the past three years.
Seventy percent of its packaging is now sourced within the country and it plans to make that 100 percent by 2018.
Delays in clearing imports as a result of the new rules has also been a problem for major manufacturers, adding to costs and creating bottlenecks, encouraging firms to cut back on imports.
"We continue to face an issue with the clearance process in Egypt," Mars General Manager for North Africa and Levant Ahmed Seddik told Reuters.
Juhayna Food Industries, Egypt's largest dairy and juice producer, is among other listed companies to pursue a similar strategy. Juhayna used to make its mango juices using 50 percent imported fruit. Since the currency flotation it has switched exclusively to Egyptian mangoes, Chief Executive Seif Thabet told a recent industry event.
The trend is not limited to food. Anglo-Dutch food and personal goods giant Unilever is seeking local packaging suppliers for its soaps and detergent powders.
"Everyone is squeezed on dollars so you start looking at your import list to knock off some dollar imports," said Ashraf Bakry, Managing Director of Unilever in Egypt, whose firm imports 40 percent of their packaging material but aims to source it all from Egypt within three years.
Export Advantage
The flip side of the currency depreciation for multinationals, however, is that locally-made products have become far more competitive abroad and a number are capitalising by expanding their manufacturing presence in Egypt
PepsiCo, for example, is now looking at exporting its Egyptian-grown potato seeds to other PepsiCo companies in the region.
"Right now with the new cost structure, the labour cost, is considered to be low so you will have much bigger opportunities to be competitive in terms of pricing versus other relative PepsiCo entities across the region so we see this as an opportunity," PepsiCo's Sheikh said.
Mars will invest 750 million pounds ($42 million) over the next 18 months with the aim of increasing its exports to 80 percent of production from 50 percent to 60 percent now, Seddik said.
Unilever is also in expansion mode. It plans to double its asset base with the aim of turning Egypt into a regional export hub. It expects its export volume to double this year.
"Egypt makes absolute sense because there is very low skilled labour cost and very low utilities cost as well very attractive logistics cost because the location is close to many markets," Unilever's Bakry said.
"This decision has been in discussion for a long period but now that the devaluation happened things are moving very quickly … It unlocked the decision-making process."
Report by Asma Alsharif; Editing by Lin Noueihed and David Clarke; Reuters