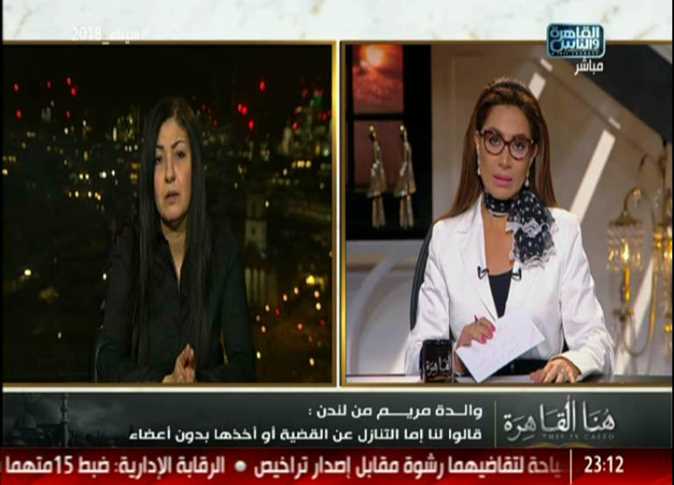 Mariam Moustafa's mother Nesrine Abu El-Enein said that British authorities are trying to pressure her to drop the charges following her daughter's death. During a phone interview with the 'Huna Al-Kahera' (This is Cairo) television program on Thursday, Abu El-Enein revealed that British authorities told her to either to drop the charges or to leave Mariam's body to the authorities, "they told me either to get her body without any organs in it or to drop the charges, or to wait a month or two."
She added that the autopsy removed Mariam's heart, brain and lungs, adding that this procedure is neither normal nor lawful. She wailed, "we do not sleep and I am in agony. I want to bury my daughter to give her some peace after the torture she's been through. Mariam does not deserve this."
Mostafa Abou Hussein, lawyer of Egyptian national Mariam, earlier declared that the course of the trial depended on the autopsy of Mariam's body, with results still pending. "Mariam's autopsy was inconclusive. Today Egyptian authorities are demanding the forensics department to declare whether there is a direct link between the attack on Mariam and her death. This will be determined following further tests," he said.
An engineering student, Mariam, who moved from Italy to the UK five years ago, was left in a coma after being attacked in central Nottingham on February 20 by a group of young women, and died from her injuries on Wednesday.
Mariam's death has put the British healthcare system under scrutiny. In November, Mariam published a video where she said her medical care in the UK was terrible, explaining that she had a heart problem and went to the hospital twice where they declared her state to be normal. Mariam then went to Italy where they told her her condition was severe, according to her lawyer.