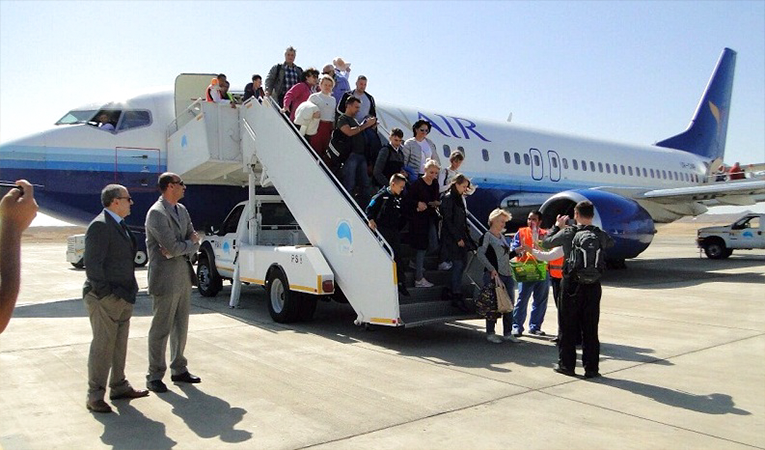 The Marsa Allam International Airport on Tuesday is set to receive an EgyptAir flight carrying 120 Egyptians from Lebanon at 9:00 pm, as part of exceptional flights returning stranded Egyptians from abroad.
The returnees will be quarantined in Marsa Allam's hotels and tourist villages for 14 days under full medical supervision, as part of precautionary measures against the coronavirus outbreak.
A medical team sent by the Red Sea's Directorate of Health will conduct the necessary medical examinations on the returnees, which includes checking their temperatures twice a day and following up on their health.
The team will also supervise the sterilization and disinfection of the buildings the returnees are quarantined in.
EgyptAir's flight schedule from Cairo and back to Marsa Allam Airport are as follows:
Cairo-Beirut: Departs 4:55 pm on April 21.
Cairo – Riyadh: Departs 8:30 am on April 22.
Cairo – Washington: Departs 11:00 am on April 23.
Cairo – Casablanca: Departs at 8:05 am on April 23.
Cairo – Amsterdam: Departs at 9:50 am on April 23.
Cairo – Moscow: Departs at 10:40 am on April 23.
Cairo – Bahrain: Departs 2:00 pm on April 23.
Cairo – Bombay: Departs 4:45 pm on April 23.
Cairo – Guangzhou: Departs 11:20 pm on April 23.
AirCairo also has it's own flight schedule:
Cairo – Frankfurt: Departs 10 am on April 26.
Cairo – Kiev: Departs 9:30 am on April 27.
Cairo – Jakarta: Departs 7:30 am on April 28.
Cairo – Addis Ababa: Departs April 30.
Egyptian State Minister for Information Osama Haikal said on April 13 that the government has created a set of criteria for returning Egyptian citizens stranded abroad due to the coronavirus pandemic.
In a phone call with the television program "al-Qahira al-Aan" (Cairo Now) presented by Lamees al-Hadidy, Haikal said that there are several conditions which are applied to those stranded abroad.
Travelers the government considers stranded include those who temporarily traveled to another country, whether for a visit, tourism or a medical procedure.
Those who traveled to participate in a conference or a business venture are also included, as are students stuck abroad after the cessation of their educational programs due to the coronavirus pandemic.
Haikal added that any person who does not fall within these categories and who has residency in another country is not truly stranded.
According to Haikal, the government will determine who is stranded and who is not by checking the exit visa in each traveler's Egyptian passport.
Egypt is suspending flights from March 19 until April 23 as part of precautionary measures against the spread of coronavirus.
Edited translation from Al-Masry Al-Youm