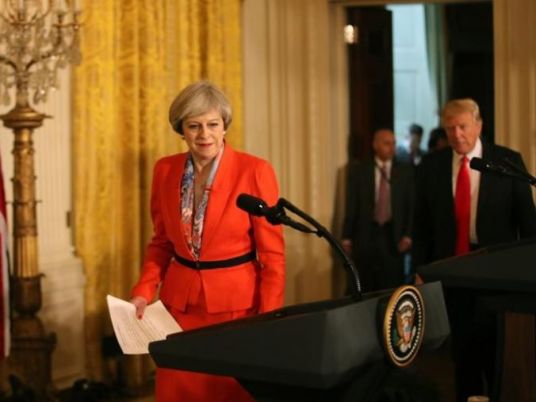 British Prime Minister Theresa May said on Thursday she would tell US President Donald Trump that intelligence shared between their two countries had to remain secure after leaks to US media about the Manchester attack.
British police stopped sharing information about the suicide bombing with the United States, a British counter-terrorism source told Reuters after police chiefs said the leaks to media risked hindering their investigation.
Police are holding eight people in custody in connection with the attack, which killed 22 people, and Manchester's Chief Constable Ian Hopkins said the arrests were significant.
"I want to reassure people that the arrests that we have made are significant, and initial searches of premises have revealed items that we believe are very important to the investigation," he told reporters.
The official threat level in Britain was raised after the Manchester attack to "critical", its highest level, meaning a further attack could be imminent. Troops have been deployed to free up police officers for patrols and investigations.
Hopkins said on Wednesday that the 22-year-old suicide bomber, Salman Abedi, was part of a network. Born in Manchester to Libyan parents, Abedi had recently returned from Libya, according to the interior minister.
He blew himself up at the Manchester Arena indoor venue after a concert by US singer Ariana Grande, whose fan base is made up largely of children and teenagers. The victims ranged from an eight-year-old schoolgirl to parents who had come to pick up their children.
The attack also injured 116 people, of whom 75 were admitted to hospital and 23 remain in a very serious condition, health authorities said on Thursday.
Distress
Hopkins said the leaks of details of the investigation to U.S. media, which included forensic photographs of the bomb site published by the New York Times, had been hurtful to the families of the victims.
"It is absolutely understandable the distress and upset that this caused to these families that are already suffering," he said.
May said she would talk to Trump at a NATO summit later on Thursday about the leaks, which included the publication of photographs of the bomb site by the New York Times.
"I will make clear to President Trump that intelligence that is shared between our law enforcement agencies must remain secure," she said in a televised statement.
The decision to stop sharing police information with US agencies was an extraordinary step as Britain sees the United States as its closest ally on security and intelligence.
"This is until such time as we have assurances that no further unauthorized disclosures will occur," said the counter-terrorism source, who spoke on condition of anonymity.
The BBC said later Interior Minister Amber Rudd was now confident the leaks, which she had described as irritating, would now stop.
British authorities did not say that the investigation had in fact been compromised by the leaks.
Many European cities, including Paris, Berlin and Brussels, have suffered attacks in the last two years, underlining the importance of confidential intelligence cooperation.
Britain routinely shares intelligence with the United States bilaterally, and also as part of the "Five Eyes" network which also includes Australia, Canada and New Zealand.
Trump was widely criticized this month after it emerged he had discussed sensitive Syria-related intelligence, originating from an ally, with Russian officials at a White House meeting. May said at the time Britain would continue to share information with Washington.
"A City United"
Queen Elizabeth visited the Royal Manchester Children's Hospital, where some of the casualties have been treated.
Britain's Queen Elizabeth speaks to Evie Mills, 14, from Harrogate, her mother, Karen and dad, Craig during a visit to the Royal Manchester Children's Hospital in Manchester
A minute's silence was observed in honor of the victims at a square in central Manchester and other places across Britain.
The city's two giant soccer clubs, Manchester United and Manchester City, laid aside their fierce rivalry to jointly donate £1 million ($1.3 million) to an emergency fund set up to support families affected by the attack. They labeled their initiative "A City United".
The bombing has caused revulsion across the world because it targeted children and teenagers.
British media have reported that one of the eight people under arrest is Abedi's brother but police have not confirmed that. Abedi's father and younger brother were arrested in Tripoli in Libya.
Members of the public attend a minute of silence for the victims of the Manchester Arena attack, in St Ann's Square, in central Manchester
The pictures published by the New York Times included remains of the bomb and of the rucksack carried by the suicide bomber, and showed blood stains amid the wreckage.
"I think it's pretty disgusting," said Scott Lightfoot, a Manchester resident, speaking outside a train station in the city. He criticized media for publishing such material.
"Who's leaking it? Where's it coming from? This is British intelligence at the end of the day, people shouldn't be finding out about this."
The Financial Times reported that such images are available across a restricted-access encrypted special international database used by government ordnance and explosives experts in about 20 countries allied with Britain. It said the database was built around a longstanding U.S.-British system.
US channel ABC News reported that police had found a kind of bomb-making workshop in Abedi's home and he had apparently stockpiled enough chemicals to make additional bombs.
Reporting by Kylie MacLellan in London and Andrew Yates in Manchester; Additional reporting by Andy Bruce, Kate Holton, Alistair Smout, William James, William Schomberg and Paul Sandle; Writing by Estelle Shirbon and Guy Faulconbridge; Editing by Ralph Boulton
Photo credits: Peter Byrne and Darren Staples for Reuters