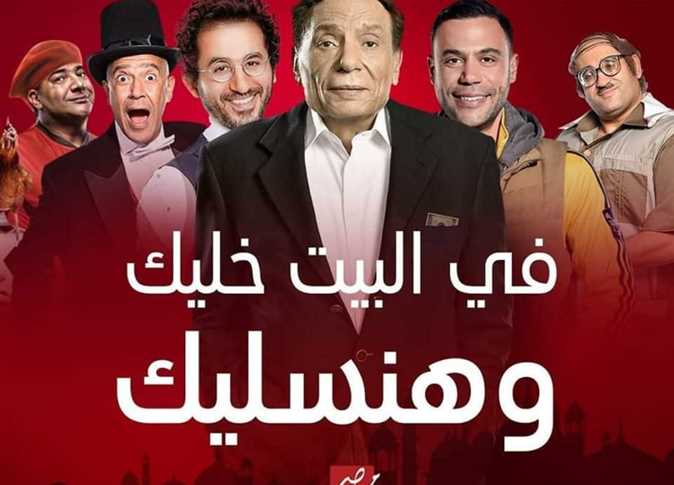 MBC Masr channel launched on Thursday a campaign entitled "Fi al-Beit Khalek..we hanslek" (Stay home..We will entertain you), calling on people to stay inside as much as possible to contain the spread of the novel coronavirus (COVID-19) outbreak in Egypt.
MBC announced a diverse entertainment program as part of the campaign, including airing everyday at noon the series "Captain Anoush" (2017) starring Bayoumi Fouad and Abeer Sabry, and the series "Lamay al-Qot (2017)" starring Mohamed Imam and Tara Emad, broadcast everyday at 2:00 pm.
"Saheb El-Saada" (Owner of Happiness; 2014) starring Adel Emam and Lebleba will be available to watch at 7:00 pm, while the Shaqet Faisal series starring Karim Mahmoud Abdel Aziz and Ayten Amer will broadcast at 9:00 p.m.
At 8 pm on Fridays and Saturdays, viewers can also tune in to enjoy the comic performances in "Masrah Masr" (Theater of Egypt; 2014) starring Ashraf Abdel Baqy, as well as a selection of other comedy stars.
The comedic program "Asaed Allah Masaekom men Gadid" (Have happy nights once more), starring Akram Hosny, will be available to watch at 9:00 pm on Saturdays.
A collection of Arabic films, comedies, foreign films, Bollywood films, and various TV shows will be available everyday at 1:00 am.
Egypt's Prime Minister Mostafa Madbouly moved on Thursday to close all restaurants, cafes, cafeterias, casinos, nightclubs, bars, malls, shops and mobile food carts nationwide, from 7:00 pm until 6:00 am each day through March 31, as part of efforts to stop the spread of the coronavirus (COVID 19) outbreak.
Delivery services, as well as stores selling essential foodstuffs of medicines like groceries, pharmacies and supermarkets, are exempted from the decree.
Egypt announced on Wednesday evening 14 new cases of coronavirus, raising the total to 210.
Six people have died from COVID-19 in Egypt.
Edited translation from Al-Masry Al-Youm