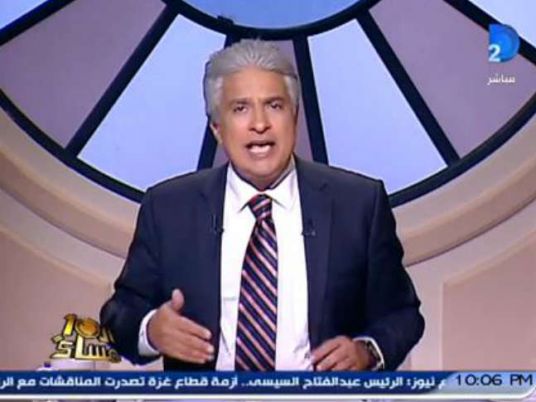 The host of Dream 2's talk show "10 O'Clock" is blaming authorities for his show suddenly going off air late Sunday during a video report of a huge fire that caught a market in the city of Mahalla.
News reports earlier said popular media host Wael al-Ebrashy had received threats over his frequent criticisms of the ministries of education and housing.
Ebrashy told privately-owned Al-Watan newspaper that the reasons behind the blackout were political rather than technical, adding that he had been told he wouldn't be able to proceed with the show for that day.
Before the show started, Ebrashy said he was informed that the ministers of education and housing had threatened to quit due to his plan to "disclose files related to the two ministries."
Ebrashy said the incident was probably triggered by earlier reports he had aired. The first report concerns the death of a student in Marsa Matrouh after the school's gate collapsed on him last week. The other report was about a woman who had to give birth to her baby in the street in Kafr al-Dawwar, Beheira, after the local hospital refused to admit her. A video of the lady went viral throughout social media and stirred an uproar among internet users.
Ebrashy told Al-Watan he stressed to channel administrators that he "will not cease to stir the issues of students' deaths at schools or corruption in any ministry."
The host is a fervent opponent to the regime of deposed president Mohamed Morsy and his group, the Muslim Brotherhood, and also an ardent supporter of incumbent president Abdel Fattah al-Sisi who ousted Morsy a year ago.
"Those ministers belong to a government that represents the 30 June revolution that rid us of the Brotherhood's authoritarianism, but they are practicing a different kind of authoritarianism, pressuring satellite channels not to unveil their mistakes," he said.