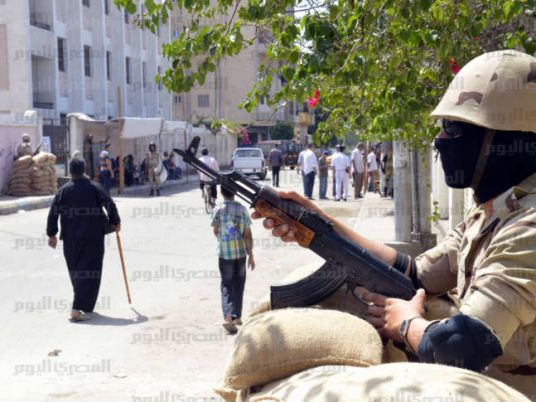 A number of prominent media hosts who support the current transitional Egyptian authorities expressed their anger at what they described as the low turnout of voters on the first day of the 2014 presidential elections on Monday.
"The people have to participate in the elections to prove to the world that the people agree on the road map. It is not important who wins whether [Abdel Fattah] al-Sisi or [Hamdeen] Sabbahi," said presenter Amr Adib said Monday evening on Al-Youm Channel.
"Imagine if only 8 or 10 million particpate in the elections, what are we going to say to the world? At this moment we have to open prison, reinstate Mohamed Morsy, and tell him: You can rule Mr. President because Egyptians did not want the road map," Adib continued.
Controversial media personnel Tawfiq Okasha, owner of al-Faraeen Channel, attacked people who did not vote on Monday saying the turnout was weak as only 7 million cast their vote on the first day of the elections.
"12 million tourism workers should have voted today. But as long as they did not, they have to find another job, whether to be beggars or spongers," Okasha mentioned.
Presenter Lamees al-Hadidy on CBC Channel appealed to Copts saying: "Remember the burning of churches and terrorism you have been subjected to during the previous elections. Now you are free, but if you do not particpate, you will be remorseful."
"I hope citizens realize that the Presidential Elections Commission will not extend the vote, and hope they go early to vote," Hadidy said.
Former MP and pro-military writer Mostafa Bakry criticized the low turnout of voters on the first day of elections. "We are in a state of war. Turnout is the 'heading' or the country will be in big trouble. If the turnout is not high, we will get into trouble with enemies overseas, and traitors at home," Bakry said.
"Those who did not participate in the elections are giving the kiss of life to terrorists and are giving the Americans and the West an opportunity to comment on 30 June," Bakry added.
"The turnout of voters on the first day of elections does not match the number we have been aspiring for," said journalist and presenter on al-Nahar Channel Khaled Salah.
"I do not want to depress people who voted, but we have to confess," he added.
"The number of participants today was between 9 to 10 million. It is a large number, but does not commensurate with the expected [turnout] and with the facilities granted by the Presidential Elections Commission on the first day of voting. The scene in front of many polling stations was not as we desired," Salah said.
Edited translation from Al-Masry Al-Youm