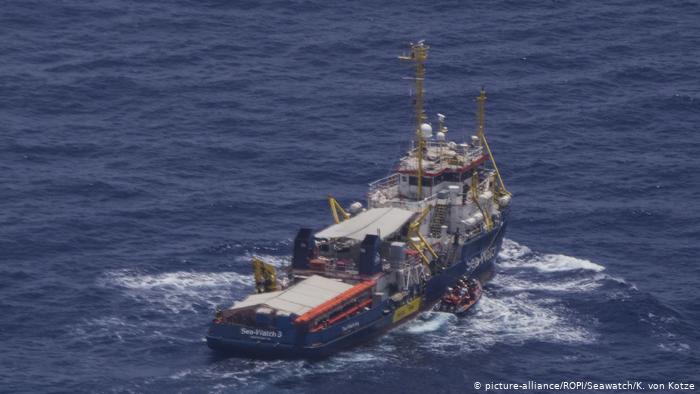 The Sea-Watch 3 was still waiting with its 42 rescued passengers off the coast of the Italian island of Lampedusa on Thursday afternoon but as the evening fell, the ship drew closer, drifting between 1 and 3 nautical miles off shore, and defying orders from the port authorities.
The people on board have been at sea for more than two weeks after being rescued off the coast of Libya. The Sea-Watch has been refused permission to land in Italy, on penalty of a fine.
The ship's captain, Carola Rackete, had a strong message for the Guardia di Finanza, or financial police, on Thursday as they told her not to approach the port, and to leave Italian waters.
"This is negative," she responded. "I will proceed toward the port and disembark these 42 people due to the state of necessity. You are failing in your authority to provide a port of safety to the people I rescued."
On Wednesday Rackete had decided to enter the Italian port: "I know this is risky, but the 42 shipwrecked on board are exhausted. I will bring them to safety."
Then on Thursday, the Sea-Watch NGO tweeted: "We waited one night. We cannot wait another ….. Desperation of people in need is nothing to gamble with."
A delegation of Italian parliamentarians boarded the ship Thursday afternoon, and said they would remain on board until the migrants were allowed to disembark.
Rescued off Libya
There were 53 migrants rescued by the Sea-Watch 3 off Libya on June 12 and Italy has already taken in 11 vulnerable people on medical or humanitarian grounds. But it has refused to take in the others, saying they should be taken either to Germany or to the Netherlands, where the Sea-Watch is registered.
EU Migration Commissioner Dimitris Avramopoulos said Brussels was coordinating with member states to find a solution but that the ship needed to land.
"A solution for people on board is only possible once they are disembarked," Avramopoulos said in a statement. "I hope that Italy in this particular incident will contribute to a swift resolution for the persons on board."
Bishop Cesare Noviglia of the northern Italian city of Turin has said his diocese would be willing to take them in.
A number of German cities have also offered to welcome the migrants.
Sea-Watch Captain Carola Rackete
Italian opposition
Italian Interior Minister Matteo Salvini said on Facebook: "We will use every lawful means to stop an outlaw ship, which puts dozens of migrants at risk for a dirty political game."
"Nobody will disembark unless someone cares to take them to Amsterdam, Berlin or Brussels. I'm totally fed up with this," said Salvini. "In 14 days they could have gone to the Netherlands and come back again. In 14 days they could have gone to the United States or Australia."
Salvini added: "If the ship is seized and the crew arrested, I could only be happy."
Salvini successfully proposed a decree to fine charity ships which flout orders to keep out of Italian waters. The range of the fines is from €10,000 to €50,000 ($11,360 to $56,800).  There is also the possibility of criminal action against the crew, and the confiscation of the vessel.
The European Court of Human Rights on Tuesday rejected a petition from Sea-Watch to order Italy to take in its boat.
Salvini contradicts 'everything Christianity stands for'
The head of the Evangelical Church in Germany, Heinrich Bedford-Strohm, criticized the Italian interior minister in an interview with DW.
"What Salvini is doing stands in deep opposition to everything that Christianity stands for," he said.
"It can't be right that those who save lives have to justify their actions. Those who stand in the way of people saving lives should justify themselves instead," he added.
Bedford-Strohm said the Evangelical Church would send its own ship to the MediterraneanE to save migrants if EU governments refused to take more action.
amp,jm/sms (AFP, dpa, Reuters)