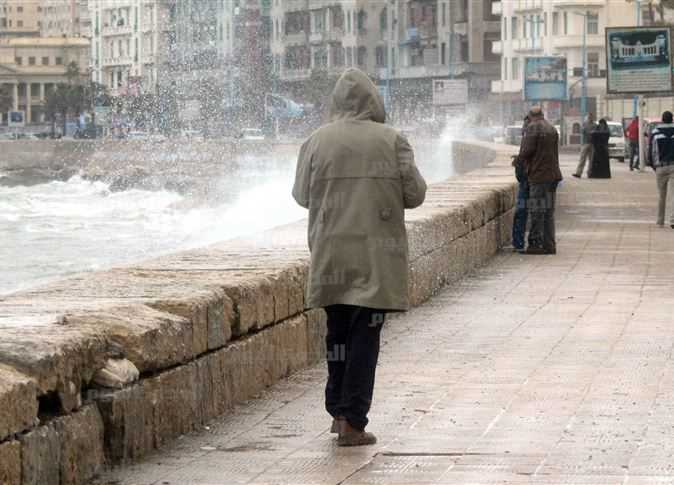 The Egyptian Meteorological Authority expects a decrease in weather temperatures and continued condensation of dense clouds in the northern regions, as well as active cold winds.
Heavy rains on the northern coasts that will reach to thunderstorms.
This greatly contributed to an improved air quality and visibility from sand and dust storm that swept the country on Wednesday. 
Clouds are changing color and form over the northern regions of the Mediterranean coasts.
More specifically the Delta governorates, Suez Canal cities, and even Greater Cairo and northern Upper Egypt: where low and medium clouds appear in thick to intermittent white and gray color with a clear blue background of the sky due to the purity of the air quality.
There are also chances of rain falling on the northern coasts and the governorates of North Lower Egypt, at intermittent intervals.
Despite the gradual improvement in the weather on Thursday,  in most parts, the cold weather will continue during the day in the northern regions the authority said.
Upper Egypt governorates will be relatively warmer.
Meteorologists warned of a drop in temperatures after sunset, as the weather will turn very cold in all parts, and the minimum temperature in St. Catherine is predicted at 3C.
Meteorologists advised citizens to wear heavy winter clothes and avoid standing in open areas where they could be exposed to cold air currents.
Satellites monitored a noticeable decline in wind speeds in most parts, while moderate to strong gusts sometimes on the northeastern coasts and the coasts overlooking the Red Sea, which increases the feeling of cold weather.
Maximum temperatures predicted on Thursday:
Greater Cairo 17C
Alexandria 16C
Sharm el-Sheikh 21C
Northern Upper Egypt 18C
Southern Upper Egypt 20C
Edited translation from Al-Masry Al-Youm