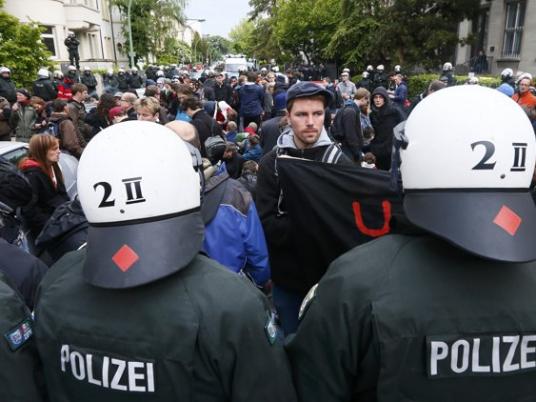 Thousands of refugees trudged through mud and torrential rain to Greece's border with Macedonia on Thursday, swelling a human tide across Europe that authorities appear powerless to control.
Hungary, a key transit country for migrants trying to reach richer and more welcoming countries such as Germany and Sweden, said it expected to finish building a fence along its border with Serbia by early October to help stem the flow.
Denmark, the latest front line in the continent's migrant crisis, allowed refugees to move freely through its territory to Sweden, a day after it shut a motorway link with Germany in a bid to halt the flow of people.
German Chancellor Angela Merkel's deputy said the record-breaking influx of refugees could help ease a chronic skills shortage and provide a boost to Europe's biggest economy. Berlin's critics, notably in ex-communist eastern Europe, say that message will only encourage more people to move.
On Greece's northern border, migrants including children and elderly women – most of them fleeing Syria's four-year-old civil war – slithered across muddy fields towards lines of Macedonian policemen who issued orders in broken English in an attempt to maintain some order.
"I am sick, (I spent) four hours in the rain," said Ayman Sayed Ali, an engineer from the Syrian city of Aleppo.
"We are humans, not animals," said a man from the capital Damascus, who said he had lost his clothes on the boat that brought him to Greece.
"Look, no clothes, no jacket, no food. We are suffering. We will die here if we stay in the rain for another hour."
Some refugees used binliners or plastic bags as makeshift raincoats or hats as protection against the heavy rain. Tempers occasionally flared and at least one policeman wielded his truncheon to stop people breaking through the police cordon.
Thousands of migrants spent Wednesday night in the open on the Macedonian side of the border due to a lack of capacity in reception centres and trains to carry them north into Serbia.
HUNGARY GETS TOUGH
Similar scenes of desperation and congestion were repeated at key border crossings across Europe.
Greek police said up to 4,000 people were waiting to cross the Macedonian border on Thursday. About 3,000, mostly Syrians, are arriving daily on the island of Lesbos before heading for the Greek mainland, the police said.
Crossing Greece to the Macedonian border is just the first of many challenges facing the migrants in a Europe where their reception ranges from hospitality to hostility.
Hungarian Prime Minister Viktor Orban's chief of staff said Budapest planned "different rules of the game" from next week, with penalties for illegal entry, accelerated asylum procedures and possible expulsion back over the border.
Orban, shrugging off the Cold War echoes of razor wire and watchtowers along an east European border, says the flow of migrants must stop, framing it as a battle for the prosperity and "Christian identity" of Europe.
Hungary said 3,331 people had registered after entering from Serbia on Wednesday, the highest daily total so far.
After days of smooth operation, Austria briefly suspended train services across its border from Hungary early on Thursday due to the crush of people.
"Ever more people are arriving daily," said a spokesman for the national rail company, OeBB. "It far exceeds our capacity."
Austrian police said they expected nearly 8,000 people to enter the country from Hungary in the course of Thursday.
On Wednesday the president of the European Commission, Jean-Claude Juncker, appealed to governments to share out refugees and help relieve the burden on frontline states such as Greece, Italy and Hungary.
Juncker's plan faces stiff opposition from some of the European Union's 28 member states, though Poland, a longtime sceptic, indicated on Thursday it was ready to take its share.
"Accepting migrants escaping to save their lives is our duty," Prime Minister Ewa Kopacz said.
German Economy Minister Sigmar Gabriel, who is also Merkel's deputy, said the migrants could help Germany – which expects to take in about 800,000 people this year alone – to tackle the demographic challenge of a rapidly ageing population.
"If we manage to quickly train those that come to us and to get them into work, then we will solve one of our biggest problems for the economic future of our country: the skills shortage," Gabriel told the Bundestag, the lower house of parliament.
"But there are also risks," he added, pointing to the danger that refugees might not integrate properly into German daily life if they did not receive language training.
In the United States, President Barack Obama directed his administration to prepare to take in at least 10,000 Syrian refugees over the next year, the White House said on Thursday.
It is the first specific commitment the United States has made toward increasing its acceptance of refugees from the war-torn country.
"ISLAMIC INVASION"
The unprecedented influx of people has strained Europe's passport-free 'Schengen area' to breaking point. Former French president Nicolas Sarkozy, tipped to return to power in 2017, called on Thursday for the suspension of Schengen, saying the migration crisis had made it unworkable.
However, a survey by the Elabe polling agency showed French support for taking in more migrants from war zones had jumped to 53 percent from 44 percent only a week before, suggesting that harrowing images of drowned toddler Aylan Kurdi and the warm welcome extended by neighbouring Germany were having an impact.
Some Europeans have been alarmed by the prospect of large numbers of mostly Muslim refugees settling in their countries. Dutch far-right leader Geert Wilders spoke on Thursday of an "Islamic invasion".
"Masses of young men in their twenties with beards singing 'Allahu Akbar' (God is greatest) across Europe – it's an invasion that threatens our prosperity, our security, our culture and identity," said Wilders, whose party is outside the government but is the most popular in opinion polls.
(Reporting by Reuters bureaux in Athens, Belgrade, Budapest, Copenhagen, Berlin, Paris, Amsterdam and Warsaw; writing by Gareth Jones; editing by Andrew Roche, Bernard Orr)