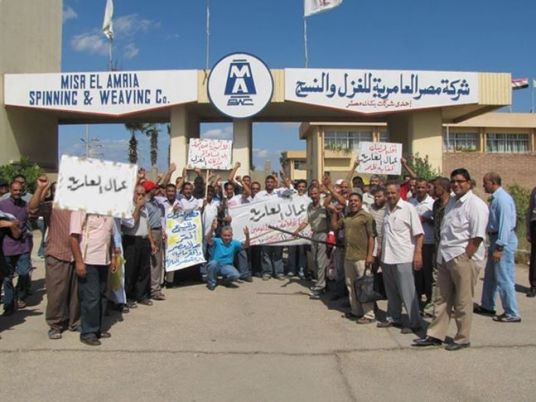 Escalating protests and strikes by workers at government-run companies over the decision to withhold a 10 percent bonus due since July have prompted Manpower Minister Gamal Sorour to seek a meeting with the demonstrators.
Workers at government-run companies on strike over the past few weeks are decrying a decision by the Finance Ministry to disburse the bonus to administrative agencies and citizen service bodies while excluding at least 400,000 workers at government-owned businesses.
Sorour left a ministerial meeting chaired by President Abdel Fattah al-Sisi on Monday and headed to Gharbiya to meet with protesting workers from the Misr Spinning and Weaving Company in Mahalla, whose strike extended to another branch in Beheira. Sorour met with Gharbiya governor Saeed Kamel but no details about the meeting have emerged yet.
The protests extended to 3,500 workers at supply commodities freight companies, many of whom sent a memo to the presidency asking him to intervene in disbursing the bonuses before escalation.
Edited translation from Al-Masry Al-Youm