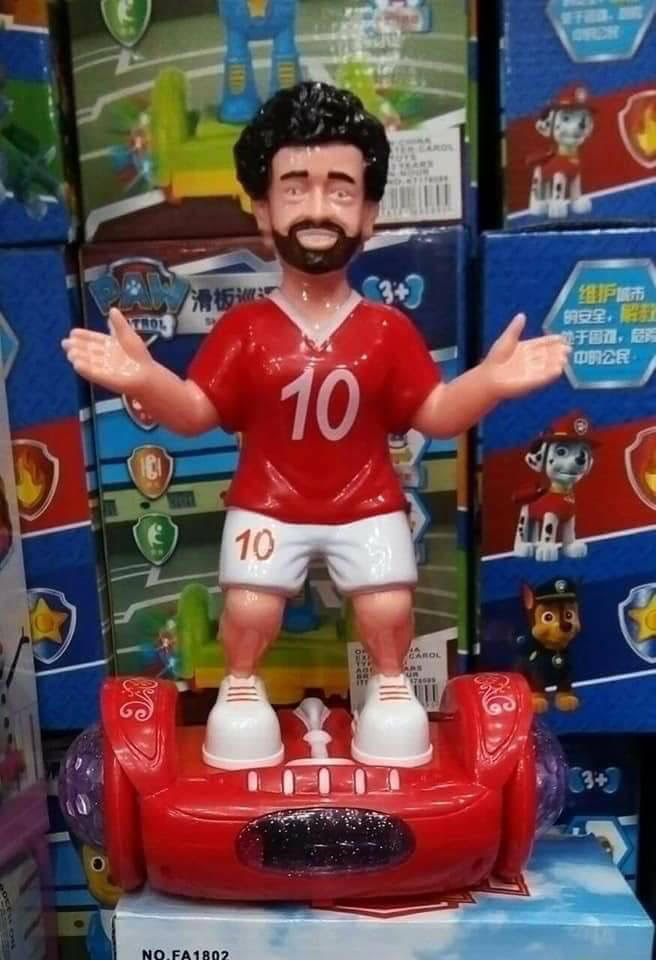 Egyptians' love for Mohamed Salah knows no boundaries. The Liverpool star and Egyptian heartthrob has captured the heart of the young and the elderly. It seems marketing agencies for the popular Ramadan lanterns have caught on the Salah fever as many of them chose Salah-themed lanterns as the newest trend for this year's Ramadan.
The lanterns also come at a perfect timing as the World Cup in Russia commences in June, immediately after Ramadan. So, lantern makers decided to make the best out of it, printing photos of Salah holding the Ramadan lantern in his hand. Not only are there Salah themed lanterns and pictures of Salah with lanterns, but there are also Salah decorations.
A print station owner, Hajj Yahia, began giving orders to his workers to devote most of his Ramadan printing capabilities to Salah-themed decorations. He told Al-Masry Al-Youm that the print station has not been doing well in a while due to the country's economic stagnancy. However, Mo Salah's incredible performance breathed an opportunity for his business.
He added, "Abu Mecca was the reason for the extra cash. Now we get a lot of requests, which help us employ youth, as the single product requires ten workers to see the light. To our printing station, Mohamed Salah has become a source of income, and helped hundreds and thousands of families, who have an income because of his themed products."
The lanterns are also fitting as they celebrate a religious occasion, and Salah has been responsible for improving Islam's image all over the world. Liverpool fans even have a lighthearted chant saying "if it's good enough for you, I'll be Muslim too."
However, the lanterns market is not a pioneer in thinking of Salah for marketing. Many ads this year chose Salah as the face of their product, such as an anti-drug video that showed him in a song sung by superstar Mohamed Hamaki. Calls seeking treatment from drug addiction wen up by 400% upon the release of the video, according to Minister of Social Solidarity Ghada Waly. Another huge brand that chose Salah as its face this year was Vodafone.
Not only that but businesses all over the world also benefitted from Salah's newfound stardom. A Lebanese-owned falafel store in the UK offered customers free orders for every goal Salah scored, as a way of marketing.
After Tuesday's 2-1 (5-1 aggregate) victory over Manchester City, Salah became the joint-highest scoring African player in a single Champions League season 8 goals, equal to Cameroon's Samuel Eto'o.
Meanwhile in the Barclays Premier League, Salah is also the joint-highest scoring African player for a single season with 29 goals, equal to Ivorian Didier Drogba. Salah holds the advantage of having up to six more matches to play in the league for Liverpool this season.
Salah currently stands as the league's top scorer with 29 goals, and is Liverpool's top scorer in all competitions with a sensational 39 goals.
The Liverpool superstar has been on fire since last year collecting countless trophies including: BBC African Footballer of the Year and top scorer of Europe's top five leagues. He is currently one of the favourites to win the Ballon d'Or award, potentially ending a decade-long duopoly on the prestigious award by Lionel Messi and Cristiano Ronaldo.