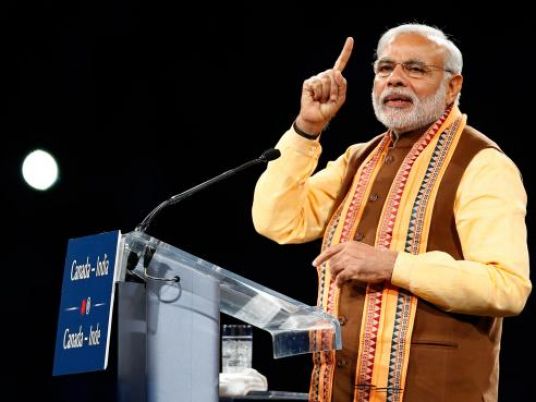 Indian Prime Minister Narendra Modi's Hindu nationalist party was heading for a landslide in the key battleground state of Uttar Pradesh, strengthening his grip on power, early counting of votes showed Saturday.
The Bharatiya Janata Party was leading in 292 seats out of the total 403 constituencies in Uttar Pradesh, way above the 202 seats it needs to form a government on its own, early counting on the Election Commission of India website showed.
Home to 220 million people, Uttar Pradesh is the biggest electoral prize in the world's largest democracy and the likely huge win for BJP will consolidate Modi's grip on national politics two years before general elections.
The BJP was also leading in the state of Uttarakhand, according to the Election Commission, but the smaller states of Goa and Manipur were too close to call. The final results from all five states will be announced later Saturday.
The result in Uttar Pradesh would strengthen Modi's hand in parliament's upper house where his lack of a majority has stalled his reform agenda.
The alliance between the ruling regional Samajwadi Party and the Congress party was trailing in a distant second with leads in 67 seats in the country's most populous state.
The beleaguered Congress was set to clinch a face-saving victory in Punjab, upsetting the apple cart of the fledgling Aam Aadmi Party, an anti-corruption party led by Delhi's Chief Minister Arvind Kejriwal which was tipped in some surveys to win in the state.
Since winning the first overall majority in three decades in the 2014 general election, Modi's dominance has been largely unchallenged and he already looks well-placed for re-election in 2019.
"The poor have given a decisive verdict that Modi is our leader and is working for our welfare… women, youth and even minorities have voted for us," said Ravi Shankar Prasad, a senior BJP leader and the law minister.
"It is an extraordinary win for the party," he said.
Even the major cash shortages which followed November's shock ban on high denomination bank notes appears to have done little damage to his standing, particularly with Congress in disarray.
Celebrations broke out at BJP's headquarters in state capital Lucknow where euphoric supporters danced to drum beats and distributed sweets.
"The state should now witness rapid development. Corruption and nepotism in governance would also come down," one supporter, Viti Kumar, a housewife, told AFP.
Upbeat scenes also unfolded at BJP's national headquarters in Delhi where men and women waved giant flags bearing the party's lotus symbol and chanted "Modi, Modi".
The multi-phase elections, which began in February, ended on Wednesday after which exit polls — that have proved unreliable in the past — were allowed to be published.
Nearly all predicted BJP to be ahead in Uttar Pradesh, Uttarakhand and Goa.
– Congress set to seal Punjab –
The only crumb of comfort for Congress — which has led India for most of the post-independence period — was in Punjab where initial counting has given it an edge.
Uttar Pradesh has been ruled since 2012 by the socialist Samajwadi Party whose leader and current Chief Minister Akhilesh Yadav went into an alliance for the election with Congress.
Yadav has been trying to tap into the pain from Modi's cash ban, campaigning alongside Congress' frontman Rahul Gandhi.
"The Samajwadi Party wholeheartedly accepts the verdict of the people of Uttar Pradesh. I congratulate BJP for winning the vote of the people," Samajwadi Party spokesman Ghanshyam Tiwari told reporters in Lucknow.
The BJP fared poorly in the last UP elections, winning only 47 out of 403 assembly seats, but it clinched 73 out of 80 parliamentary constituencies in 2014 with Modi standing in the holy city of Varanasi.
A BJP win in Uttar Pradesh would have significant implications for the make-up of the Rajya Sabha — the upper house of parliament.
Several of Modi's key reforms such as a nationwide sales tax have stalled in the chamber due to his lack of a BJP majority.
Its make-up is based on parties' strength in the state assemblies, with the biggest states supplying the largest number of MPs.