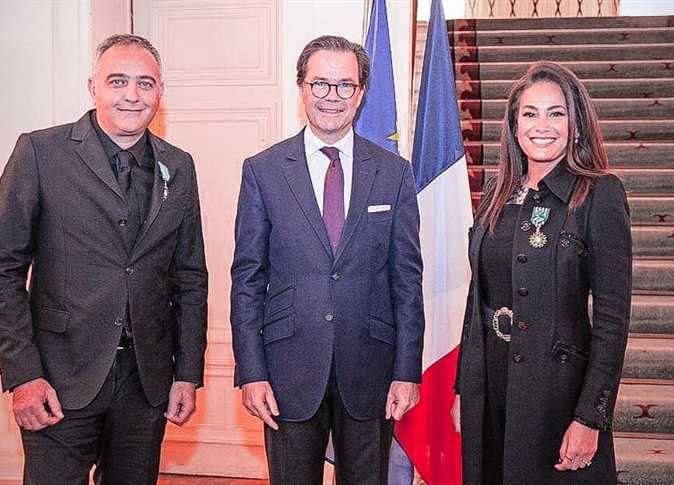 The ambassador of France in Cairo Stéphane Romatet awarded Egyptian-Tunisian actress Hend Sabry and Egyptian screenwriter and producer Mohamed Hefzy the French Arts and Literature order, during a ceremony at the embassy's headquarters in Cairo.
Sabry posted on her Facebook page, saying: "I am proud to receive the French Arts and Literature order with an officer's rank, after receiving it in 2014 with a knight's rank. Thank you to the Republic of France and to his excellency the ambassador of France, to my family, my fans and friends, and I promise you to continue trying to make you happy."
The Tunisian star also congratulated Hefzy for obtaining the French Arts and Literature order with a knight's rank at the same ceremony.
Thriving in Egyptian cinema, Sabry starred in "Mozakrat Morahka" (The Diaries of a Teenager) alongside Egyptian actor Ahmed Ezz, directed by Inas al-Digheidy. Across her various roles in films such as "The Yacoubian building" (2006) and "Banat wist al-Balad" (2005), Sabry shone light on the pressures and issues that Arab women face, with one acclaimed example being her role in "Asmaa" (2011).
Sabry has earned several prestigious awards, such as the "Best Arabian Cinema Actor" award in 2012 in Murex D'or, the "Faten Hamama Excellence Award" from the 2017 Cairo International Film Festival, amongst others