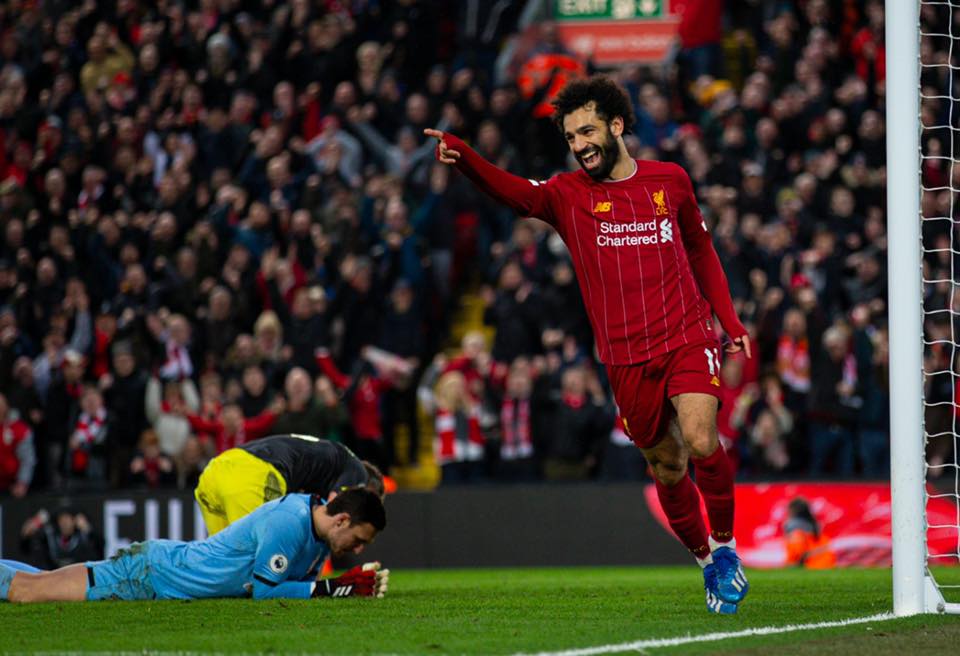 The French newspaper Le Figaro has chosen the Egyptian football superstar and Liverpool striker Mohamed Salah as one of the 10 fastest footballers in the world.
Salah ranked number eight, at a speed, according to the French report, of no less than 35 km per hour.
French footballer Kylian Mbappé ranked first at a speed of 36 km per hour.
Karim Bellarabi, a German winger who plays for Bayer Leverkusen, came in second, at 35.27 km per hour.
Kyle Walker, a Manchester City player, ranked third, at 35.21 km per hour. Leroy Sané, another Manchester City player, came in fourth, at 35.04 km per hour.
Iñaki Williams, who plays for Athletic Bilbao, ranked fifth, at 35.7. km per hour. He was followed by Pierre-Emerick Aubameyang, an Arsenal player, at 35.5 km per hour.
Kingsley Junior, who plays as a forward for German Bundesliga club Bayern Munich, ranked seventh at 35 km per hour, followed by Salah in eighth at 35 km per hour.
Álvaro Odriozola, a Spanish professional footballer who currently plays for Bayern Munich came in ninth at 34.99 km per hour and finally Nacho, a Real Madrid player, at 34.62 km per hour.
Already an icon in Egypt, Mo Salah has also become an international star. Last year, Salah was listed among the highest-paid athletes of 2019 by the American magazine Forbes, with the player's earnings valued at US$25.1 million.
In February 2020, Salah topped a list from Transfermarkt for the most valuable right-side wingers in the football world, beating Barcelona legend Lionel Messi.
Salah, who has scored 70 goals in the league since joining Liverpool in 2017, outperformed Messi and other European and international football stars in the latest ranking from the group, which regularly provides information about the global football scene.
The Egyptian football star has racked up a number of awards since joining the Premier League. He won the League's Golden Boot Award for 2017-2018 with 32 goals — a new record for a 38-game campaign — and later won the award again the following season alongside teammate Sadio Mane and Arsenal's Pierre-Emerick Aubameyang, making him the sixth player in history to win the award in back-to-back seasons.
Salah has also claimed Player of the Month three times, once in 2017 and twice in 2018, and recently claimed Liverpool's Goal of the Month award for January and the Goal of the Decade title.
Meanwhile, Madame Tussauds Museum, one of London's top tourist attractions, announced in January that it was planning to display a wax figure of Salah later this year, making him the first Egyptian footballer to be honored with a statue at the museum.
The English Premier League has been suspended since February amid the global coronavirus pandemic, following an announcement that Arsenal manager Mikel Arteta and Chelsea winger Callum Hudson-Odoi tested positive for coronavirus.