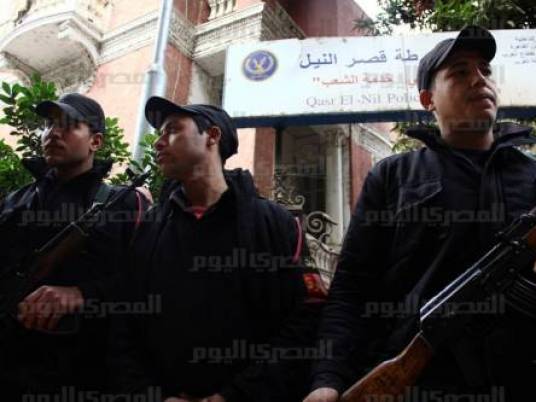 Monday's papers are full of news regarding the microbus drivers' strike, which has affected a number of governorates. Also making headlines is news of the diesel shortages, which have resulted in traffic congestion and protests, as well as protests and clashes in Cairo and other governorates
Additionally, headlines report ongoing police strike, which began five days ago and appears to be spreading across the country as officers and policemen protest against a perceived politicization of the Interior Ministry and to demand more firearms.
Amid all the unrest, the prosecutor general spoke Sunday of authorizing citizens' arrests. This controversial announcement comes as Islamist forces have been talking about establishing "militias" to police Egypt's streets, while others have mentioned the use of private security companies.
Privately owned Al-Sabah newspaper refers to the microbus driver by their nickname, running a headline reading "demons of the asphalt go on strike and paralyze country," while adding that "commuters resort to riding horse-drawn carts."
Following a similar theme, privately owned Al-Tahrir's headline reads "diesel uprising … the horse-drawn cart is the solution," while running a photo of commuters riding an overloaded cart through Cairo's streets.
In Al-Watan Newspaper, "Mircobus revolution … day of traffic congestion in Egypt's streets." The paper also mentions that the striking drivers "block off roads and railways in protest over diesel shortages," and also says that "one man [was] killed in clashes over diesel at gas station queue in Gharbiya Governorate."
In other news, Ultras Ahlawy members continued to protest for a second day Sunday in light of a court verdict in the case pertaining to the deadly Port Said Stadium Riot of February 2012 Saturday that acquitted 28 defendants.
"Street battles between ultras and police in Mahalla, protesters besiege the city's second police station" reads a headline in Al-Tahrir, while the Wafd Party's daily reports that "ultras block off 6th of October Bridge."
Al-Wafd also publishes a photo of a protester's body, identified as Khaled Mustafa, lying on the street with blood oozing from his head onto the asphalt; the article mentions that Mustafa was shot with a lead bullet in the head. "Bloody clashes in Tahrir" and "Two martyrs and tens of others injured in clashes between protesters and police along the Nile cornice," the paper adds, citing protesters' claims that police forces may be using a lethal gas — along with the normal tear gas — to disperse protesters.
Meanwhile, those policemen not busy cracking down on protesters appear to be gravitating towards a general strike within the Interior Ministry.
"Police's civil disobedience spreads and Islamists prepare their militias" to fill the security void, reads a header in Al-Sabah. This paper also mentions that "Twenty police stations and seven Central Security Forces' camps in [greater] Cairo are now on strike." Estimates suggest that over 80 police stations and more than 10 CSF camps have been on a nationwide strike since Friday — a work stoppage reportedly involving thousands of policemen, officers and conscripts.
State-run Al-Akhbar, quoting the interior minister, runs a headline saying, "If the police falls then the state has fallen" and "Army cannot fill the role of security forces." Conversely, Al-Wafd says, "Police in confrontation to prevent the Brotherhoodization of the Interior Ministry."
In the Muslim Brotherhood's mouthpiece Freedom and Justice newspaper, the headline reads, "Egypt is enraged: By the fires of the counter-revolution and the blocking of roads." Another headline in this Islamist paper, citing the Islamist-dominated upper house of Parliament, reads, "Shura Council warns of organized violence … calls on prosecution to take actions against thugs."
In state-run Al-Akhbar, whose recently-appointed editorial staff also hail from the Brotherhood, a front-page headline reads, "Holy Quran: They destroy their abodes with their own hands." Al-Akhbar runs a caricature to accompany this headline, with a drawing of "Mother Egypt" looking down on an urban setting as it burns around her – producing thick black clouds. It's not certain why there's not another caricature of "Mother Egypt" trying to put out the flames instead of merely looking gloomily towards the ground.
Also in Al-Akhbar, a headline pertaining to Prosecutor General Talaat Abdallah, who was hand-picked by President Mohamed Morsy last year says "Prosecution grants civilians right to conduct citizen's arrests against criminals and vandals."
This article mentions that Abdallah controversially authorized citizen's arrests in cases where civilians noticed that a crime was being committed; encouraging civilians to "arrest those caught red-handed in criminal acts" and "to hand them over" to authorities (police station or prosecutors' offices) while also encouraging them to file "official reports against these criminal elements."
Abdallah's controversial announcement comes amidst proclamations and efforts by Islamist groups such as Jama'a al-Islamiya to police the streets, particularly in Upper Egypt, using militias in light of the ongoing police strike, while others suggest a return to "popular committees" patrolling neighborhoods or resorting to private security companies.
Al-Watan runs a headline saying, "Military source: We've run out of patience with the Islamists, and will not tolerate the presence of armed militias," while Al-Tahrir says, "Morsy's general prosecutor grants right of citizen's arrest against other citizens," along with another headline reading, "Judges: This will lead every faction to establish an armed wing."
Egypt's papers:
Al-Ahram: Daily, state-run, largest distribution in Egypt
Al-Akhbar: Daily, state-run, second to Al-Ahram in institutional size
Al-Gomhurriya: Daily, state-run
Rose al-Youssef: Daily, state-run
Al-Dostour: Daily, privately owned
Al-Shorouk: Daily, privately owned
Al-Watan: Daily, privately owned
Al-Wafd: Daily, published by the liberal Wafd Party
Youm7: Daily, privately owned
Al-Tahrir: Daily, privately owned
Al-Sabah: Daily, privately owned
Freedom and Justice: Daily, published by the Muslim Brotherhood's Freedom and Justice Party
Sawt al-Umma: Weekly, privately owned
Al-Arabi: Weekly, published by the Nasserist Party
Al-Nour: Official paper of the Salafi Nour Party