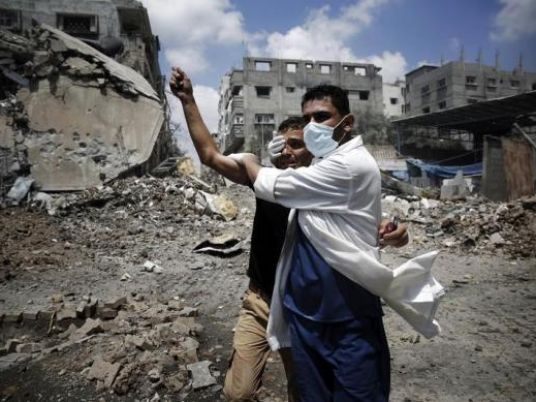 More than 100 Palestinians were killed on Sunday by Israeli shells fired at the densely populated Gazan neighborhood of Shajaia, according to medical sources in Gaza, raising the Palestinian death toll to over 500 Palestinians since the two-week Israeli military offensive in Gaza.
The Israeli government has repeatedly said that its forces do not target civilians and take all precautions to avoid innocent casualties, though many of those killed were women and children. Gaza health officials have said around 100 children have died since the start of the conflict.
More than 70 percent of those killed in the hail of artillery and airstrikes have been civilians, the United Nations reported, as Gaza is one of the more densely populated areas on Earth. A fifth of them were children as more than 40 percent of Gaza's population is 14 years old or younger.
The UN number matches the statement from the Israeli military, saying its forces killed at least 70 "terrorists" since the beginning of its ground operations on Thursday, meaning the number of civilians killed has been over 400.
The civilians killed have been portrayed in Israel as "protective shields" who are being sacrificed by "heartless" Hamas "terrorists" that rule Gaza. Meanwhile, Hamas considers them as "martyrs", killed by "Zionist" aggressors and their final destination is heaven.
According to the Israeli army, Israeli forces launched today 87 rockets, compared to 1,800 rockets since the two-week Israeli offensive.
Earlier today, 18 Israeli military soldiers were killed in Shajaia, and up to 53 others injured as Israeli army announced and one more was captured according to Hamas's armed wing announcement.
Israeli killings, the deadliest death toll in one single day for Israelis in years, happened when an armed troop carrier was hit by a shoulder-launched anti-tank missile, leaving seven soldiers killed and six more were dead in the following shootings.
Hamas announced it had ambushed Israeli ground troops, detonated explosives around their armored vehicles in the Shajaia neighborhood.
The United Nations Relief and Works Agency (UNRWA) set up more than 61 shelters on the Gaza Strip for the 81,000 displaced residents seeking shelter, UNRWA Spokesperson Chris Gunness told NBC News.
In 2008-2009 Israeli war called Operation Cast Lead in Gaza, the United Nations figures suggested that 1,166 Palestinians were killed, including 709 Hamas militants.
Many world leaders this week, including in the United States and Europe, have said they support Israel's right to defend itself from missile attacks coming from Gaza.
US and Israeli officials claimed that the Israeli ground invasion is aimed at destroying Hamas's infrastructure including tunnels and rocket-launching sites, blaming Hamas for the increasingly continued death toll of civilians for not accepting a ceasefire and continuing firing rockets on Israel from Gaza.
Yet, Hamas which governed Gaza in 2007 after winning a majority in the Palestinian parliamentary elections believes it is rather a resistance movement, founded to liberate Palestine from Israeli occupation by fighting rather than negotiations.
"Israel take all procedures to warn Palestinians of rocket firing before they happen, given Hamas stores rockets in civilians houses, yet some rockets kill civilians either by mistake or people refuse to leave their houses and some are threatened by Hamas fighters not to leave" said a military Israeli expert at the Washington Institute for Near East Policy.
US State Secretary John Kerry said "We support Israel's right to defend itself against rockets that are continuing to come in," Kerry told Fox News." It is important for Hamas to now step up and be reasonable and understand that (if) you accept the ceasefire, you save lives," he said.
However Hamas's involvement in fighting with Israel in populated areas is leading to further killings of Palestinian civilians, yet Israel's indiscriminate shells fired excessively at such overpopulated areas make it responsible for the killings.
Palestinian witnesses and officials said that shelling of the Gaza neighborhood of Shejaialeft bodies strewn in the streets and thousands fleeing for shelter.
International response to Sunday's massacre
Such escalation made the Palestinian President Mahmoud Abbas call the UN Security Council for an immediate session to discuss the grave implications of the Israeli assaults on Gazan civilians.
"I am calling for an urgent session tonight of the UN Security Council," he said in a televised speech from the Qatari capital Doha.The situation is intolerable," he said, describing the Israeli attacks as "crimes against humanity".
The Arab League lashed out at Israel today describing today's strike as "war crimes". Meanwhile, Hanan Ashrawi, PLO executive member described the Israeli strike as a "deliberate massacre" of Palestinian civilians in the Gaza Strip.
Arab League chief, Nabil el-Araby held the Israeli forces responsible for killing Palestinians civilians in the densely populated Gazan neighborhood, considering the heavy shelling as a "war crime" against civilians.
"This morning, it's nothing short of a massacre, a deliberate massacre. War crimes committed daily. But now there is a deliberate shelling and bombing and destruction of whole areas, of residential areas," Ashrawi said on "This Week."
United Nations Secretary General Ban Ki-Moon urged Israel to "exercise maximum restraint" and spare the lives of civilians in its campaign in Gaza.
"While I was en route to Doha, dozens more civilians, including children had been killed in Israeli military strikes in Shejaia. I condemn this atrocious action," he told a press conference in Doha, his first stop on a regional trip aimed at bringing an end to the fighting.
"Israel must exercise maximum restraint and do far more to protect civilians," he said, adding that it also "must respect the humanitarian law," as it pressed on with its major military campaign that began on 8 July.
In a step showing the international condemnation of the Israeli attacks targeting civilians, Sixty-four public figures, including seven Nobel Peace Prize winners, have called for an international arms embargo on Israel for its "war crimes and possible crimes against humanity" in Gaza. The statement came in a letter published in London-based The Guardian on Friday.
"We call on the UN and governments across the world to take immediate steps to implement a comprehensive and legally binding military embargo on Israel, similar to that imposed on South Africa during apartheid," the letter concluded.
Economic aspect beyond the Israeli offensive
Yet, some analysts view that Israeli "war on terror" in Gaza has an economic purpose which is controlling the Territory's 1.4 trillion cubic feet of gas and to keep Palestine poor and weak, meantime gaining export revenues and averting the Israeli domestic energy crisis, According to Dr. Nafeez Ahmed, an international security journalist and academic.
Dr Ahmad cited Israel's defense minister who on the record confirmed that military plans to uproot Hamas' are about securing control of Gaza's gas reserves.
Last Tuesday, Israeli defense minister and former Israeli Defense Force (IDF) chief of staff Moshe Ya'alon announced that ongoing operation dubbed as Operation Protective Edge marks the beginning of a protracted assault on Hamas.The operation "won't end in just a few days", he said, adding that "we are preparing to expand the operation by all means standing at our disposal so as to continue striking Hamas."
Yet, in 2007, the high-profile Israeli official focused more on the 1.4 trillion cubic feet of natural gas discovered in 2000 off the Gaza coast, valued at $4 billion. He also ruled out the possibility that "Gaza gas can be a key driver of an economically more viable Palestinian state" as "misguided"
The problem, he said is that "Proceeds of a Palestinian gas sale to Israel would likely not trickle down to help an impoverished Palestinian public. Rather, based on Israel's past experience, the proceeds will likely serve to fund further terror attacks against Israel"
"A gas transaction with the Palestinian Authority will, by definition, involve Hamas. Hamas will either benefit from the royalties or it will sabotage the project and launch attacks against Fatah, the gas installations, Israel – or all three "It is clear that without an overall military operation to uproot Hamas control of Gaza, no drilling work can take place without the consent of the radical Islamic movement."