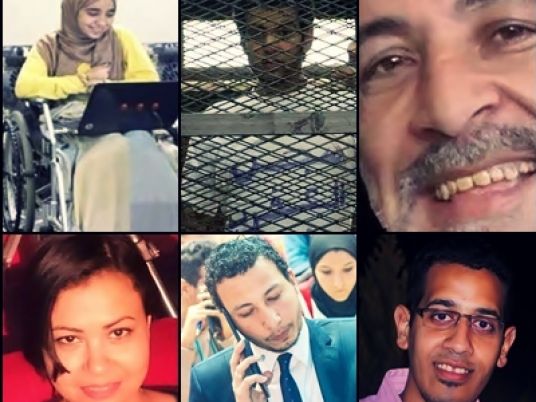 A number of human rights organizations have escalated their warnings against the reported surge in forced disappearances of young activists, which they blame on security agents.
The Arab Network for Human Rights Information (ANHRI) was the latest to join other groups, pointing to the fact that the wave of arrests and disappearances comes a week ahead of the civil disobedience called for by the April 6 Youth Movement, one of Egypt's most vocal opposition groups in recent years.
According to ANHRI, the wave of arrests began on 3 May with the arrest of Ahmed Yousry Zaki, a law school student whose whereabouts remain unknown.
Three other brothers, Anas, Ossama and Islam Sultan, also disappeared on 26 May, before they were presented to the prosecution services three days later, when they faced charges of affiliation with the outlawed Muslim Brotherhood.
On Monday, June 1, a Sinai-based activist, Sabry al-Ghoul, was arrested along with 77 others, before he was announced dead on Tuesday, ANHRI reported. Three other activists, Israa al-Taweel, Sohaib Saad and Omar Mohamed, also disappeared on Monday from Maadi, south of Cairo, and are still missing.
Other groups had also listed cases of disappeared activists, who were mostly affiliated with the April 6 Youth Movement.
Ahmed Khattab, an engineering student at Helwan University and a movement's member, had reportedly been arrested in the street at dawn three days ago. His current location remains unknown.
Another case is that of Dalia Radwan, who is said to have been kidnapped from home late Monday and held without charges. According to NGOs reports, Radwan had been punched by a police officer in Alexandria last year for wearing a pin showing the April 6 Youth Movement logo. ANHRI, however, said that Radwan is recovering from a surgery she had undergone abroad.
Abdel Rahman al-Beyaly, a physiotherapy student at the 6th of October University, had also been arrested in a street near his home in Maadi, according to Freedom to the Brave, a group calling for the release of political detainees. It added that some people present at the scene tried to intervene to prevent his arrest, but his captors fired gunshots in the air to scare the crowd, telling them they were "security".
ANHRI said "random arrests and forced disappearances of citizens undermine respect for the Constitution" which, it explained, obliges authorities to inform the detainees about the reason for their arrest and to inform their family about their location.
The organization also stressed that Egypt is party to international agreements criminalizing forced disappearances.