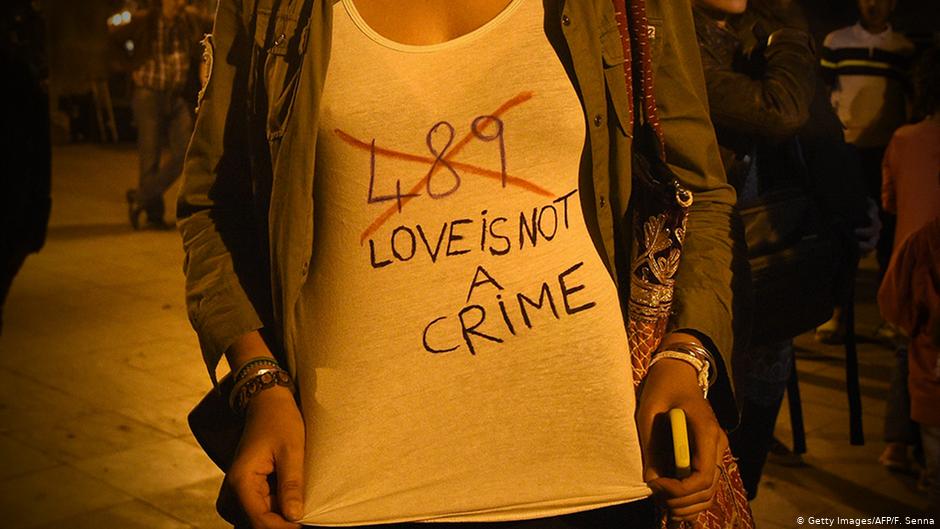 Moroccan women have been urged to pose as men on gay dating apps to expose family members and their sexual identities. It snowballed into a hate campaign. Why did a gay Instagram influencer tell them to do it?
Members of Morocco's LGBT community say they fear for their lives after a prominent social media influencer sparked an online campaign to reveal their identities.
On April 13, Sofia Talouni, a gay Instagram personality also known as Naoufal Moussa, told her 600,000 followers to set up fake accounts on dating apps like Grindr and Planet Romeo to geolocate and identify gay family members, advocacy organizations KifKif and Nassiwiyat reported.
The ensuing online campaign to out those identified has led to a "wave of homophobia and hate in the country," one community member and DW reader, who did not want to be named, wrote in to say.
"I'm living in constant fear," they wrote, after their photo was found through one of the dating apps and spread on social media. "I risk losing everything if my family find out about it and it may cost me my life for the sake of the honor of the family name."
Homosexuality carries a heavy stigma in Moroccan society and, according to Article 489 of the penal code, can be punished by up to three years in jail.
Homophobic backlash
It is unclear why Talouni — a gay Moroccan now living in Turkey — made the video, but retribution may have been a motive.
Talouni posted a follow-up video explaining that he/she wanted to "unmask the hypocrisy of Moroccan men" who had posted homophobic comments on his/her channel but were repressed gay men themselves, according to Italian LGBT rights group Il Grande Colibrì.
Instagram removed Talouni's accounts over the weekend.
Talouni did not explicitly tell his/her followers to attack gay men, but the situation created by a coronavirus-related lockdown in Morocco may have also have contributed to the video snowballing into a social media campaign of threats and intimidation.
"Morocco is in total lockdown and everyone is home, so influencers can easily grab the attention of the public, as everyone is at home, connected online," a spokesperson for Nassawiyat said.
Coronavirus lockdown leaves 'nowhere to hide'
The outing has shaken through the Moroccan LGBT community's sense of privacy at the same moment the lockdown has made their world even smaller.
"There's nowhere to hide, now you're shut in with your family," said Shereen El Feki, an expert on sexualities and masculinity in the Arab region. "If you're outed, where are you going to go? We know that domestic violence is currently rising around the world, it's not just women who experience gender-based violence."
El Feki said surveys she had conducted with gender equality organization Promundo in Morocco revealed that many tolerated homosexuality as long as LGBT people kept it quiet. Given the social climate, many advocates of decriminalization argue less for the right to openly identify as gay, and more for personal freedoms — among them privacy, she said, which have been compromised by Talouni's videos and is a growing challenge during lockdown.
Deadly effect
Advocacy groups said it was not possible to know how many people had been affected, but Nassawiyat said more than 100 people had told them they had been outed.
Journalist Hicham Tahir, who has documented some of the death threats the campaign produced, said on Twitter that one person in Rabat had committed suicide out of desperation.
The victim's mother "did not understand why her son committed suicide," Tahir tweeted:
Un ami vient de m'annoncer le décès de son ami. Ses photos ont été partagées. Par désespoir, il s'est suicidé. Mon ami a dû apprendre la nouvelle de la bouche de la mère du défunt. Elle ne comprenait pas pourquoi son fils s'est suicidé. On en est là.

— Hicham Tahir (@HichamTahir) April 17, 2020
Nassawiyat said they had heard of two cases of suicide but there could be more.
Safety measures too late for some
Grindr has issued a security warning to its users not to share photos, as has Planet Romeo, which also removed all profiles created on its app after April 13.
Planet Romeo founder Jens Schmidt said he was shocked by the campaign and took immediate action. "We are aware that so many more people face similar threats in numerous countries," Schmidt said a statement. "This case is simply more evidence, that gay, bi [sexual] or trans [gender people] are not the 'perverts,' but the circumstances they have to live in today [are perverse]."
But the measures haven't come soon enough for some. "It's not stopping, actually, it's becoming more viral as time passes," the DW reader wrote. "I live in constant fear for my life."
___
By Tom Allinson
Image: (Getty Images/AFP/F. Senna)