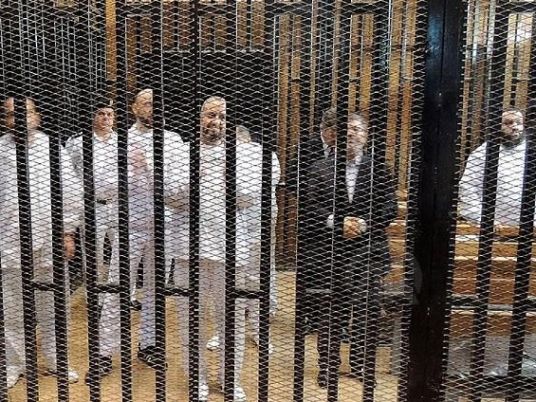 Ousted Egyptian President Mohamed Morsi, currently in jail pending his trial on incitement charges, will be questioned Sunday on charges of breaking out of jail during the 2011 January revolution.
"Interrogators will question the president Sunday with regard to the Wadi al-Natrun jail break Sunday," Osama, the elder son of Morsi, told Anadolu Agency.
Morsi, who is currently being held at Alexandria's Borg al-Arab Prison, is facing charges of helping prisoners – including himself – break out of jail during Egypt's 2011 revolution, which toppled longstanding autocrat Hosni Mubarak.
"My father refuses all interrogation and the trial procedures," Osama asserted.
"I will be attending the interrogation session as a lawyer," he added.
Morsi was flown to jail last week after appearing in court with seven other defendants to answer charges that they had incited the murder of demonstrators outside a Cairo presidential palace last year.
The court session was Morsi's first public appearance since his ouster by the powerful military more than four months ago.
Since then, he has been held at an undisclosed location.
Besides these two cases, Morsi is further accused of "conspiring" with the Gaza-based Palestinian resistance group Hamas to carry out "hostile acts" inside Egypt.
Morsi's supporters insist that all charges against him — like those leveled against other Islamist leaders — are politically motivated.
Morsi refuses to recognize the legitimacy of any interrogation or trial proceedings, insisting he still represented "Egypt's legitimate president."
He has thus far refused formal legal representation.